Sunday, January 06, 2008:
A grieving young widow discovers that her late husband has left her a list of tasks revealed in 10 messages, delivered anonymously, intended to ease her out of grief and transition her to a new life.
I've been wanting to see this movie since way before it was released, so finally Friday night I went and saw it with a friend. Before seeing it, I'd heard it was a sad movie, to bring lots of tissue, but I'll say right now, that while yes, there were several sad moments, it was also funny and endearing and sweet, and I didn't cry, but I did laugh.
When we first meet Holly and Gerry, they are fighting. It's one of those silly "female" arguments that makes me roll my eyes, but it leads to some humor and making up, and Gerry in his boxers with no shirt - now that's just lovely. Shortly afterwards - and I can say this without spoilers - Gerry dies. Holly, naturally is devastated. She wants to stay in her apartment and never leave, but friends and family won't let that happen. And nor will Gerry. He comes up with a plan to get Holly to join the land of the living again, to bring her back to the girl he fell in love with many years before.
She revisits old haunts and goes to Ireland, and we see moments from their past together, like how they met. Her mother doesn't approve of Holly doing all of these things because she thinks it's only prolonging her grief, but Holly does it anyway, and begins to find a way back to herself. Holly struggles, and cries, and feels jealous when good things happen to her friends because she thinks that part of her life is over, yet that is the lesson Gerry is trying to teach her - her life goes on, and there are many wonderful things still awaiting her. It's a lesson that takes her awhile to learn.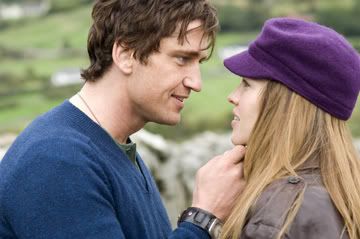 Holly's uptight, almost neurotic personality. It made me wonder why a guy like Gerry would stick around.

Most of the time it baffled me as to what Gerry saw in Holly to begin with, except for a few moments when she lets herself go and enjoys herself.




The lack of chemistry. Hilary Swank is pretty in an ugly duckling kind of way, and Gerard Butler is the definition of a sexy, earthy Irishman (or Scot) with a love of life and sense of adventure, yet I couldn't see these two together. Hilary seems uptight during the more intimate moments, and the scenes felt awkward at times. (Let's just say their first kiss was nothing like John's and Margaret's from "North and South". Now that was sexy and romantic in its innocence and exploration. Whew!)




Holly attracting the attention of all the straight, unmarried men. Why? Didn't get that. Lisa Kudrow was more more interesting. Not that I didn't like Holly because she has her moments. I just figure in real life, men would run far from someone like her. But then, what do I know?
What I did like:
Holly's best friends, played by Lisa Kudrow and Gina Gershon. While both are probably older than Holly (probably by about 10 years) there was a relaxed, bantering camraderie between them that worked really well. Lisa Kudrow is funny as hell, such a great actress, and so self-absorbed in this movie - I loved it. The scene in the boat is priceless.




Gerard Butler, Harry Connick Jr., and Jeffrey Dean Morgan. Gerard is not afraid to put himself out there, whether emotionally or at the risk of being laughed at. His chararcter is sexy and charming, with that lovely accent and twinkling eyes, and how much he loved his wife. Loved that. Harry Connick Jr. is funny as a bartender with what he calls "no filter". He basically says whatever pops into his head, and it's hilarious. Jeffrey Dean Morgan (from Grey's Anatomy) is the epitome of an Irishmen (is he Irish in real life?) with that engaging smile, sparkling eyes, and brawny build. Both him and Gerard sing in the movie too, which is fun. Ladies, I say we all go to Ireland to bring us back some hotties - who's with me?
Yet despite its faults and the awkward romance between the main characters, I would recommend seeing it for the beauty of Ireland (men included), the humor, the sweet moments, and the friendships. For me, I got my Gerard Butler fix, so I'm a very happy girl to have seen it.
Rating: **** out of *****
Labels: Gerard Butler, movies