Saturday, December 29, 2007: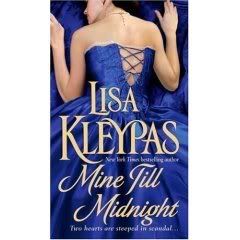 Mass Market Paperback: 384 pages
Publisher: St. Martin's Paperbacks (October 2, 2007)
ISBN-10: 0312949804
ISBN-13: 978-0312949808
A woman of modest means meets a society man skilled in the art of seduction in this captivating new novel from New York Times bestseller author LISA KLEYPAS.
THEIR LIVES DEFY CONVENTION.
When an unexpected inheritance elevates her family to the ranks of the aristocracy, Amelia Hathaway discovers that tending to her younger sisters and wayward brother was easy compared to navigating the intricacies of the ton. Even more challenging: the attraction she feels for the tall, dark, and dangerously handsome Cam Rohan.
THEIR DESIRE CONSUMES THEM BOTH...
Wealthy beyond most men's dreams. Cam has tired of society's petty restrictions and longs to return to his "uncivilized" Gypsy roots. When the delectable Amelia appeals to him for help, he intends to offer only friendship - but intentions are no match for the desire that blindsides them both. But can a man who spurns tradition be tempted into that most time-honored arrangement: marriage? Life in London society is about to get a whole lot hotter...
Lisa Kleypas is on my top 3 list of favorite authors, so I was thrilled that she wrote another historical after her recent departure to contemporaries. Yet when I bought the book, I couldn't get into it right away, and there wasn't really any specific reason, other than I wasn't ready for it at the time.
A few days ago I picked it up, ready to get lost in Cam's story. He was an intriguing character, one we got to see a bit of in "Devil In Winter", when he kisses wallflower Daisy. Many readers thought those two would end up together, but then Daisy had Matthew, and Cam was destined for another heroine, one by the name of Amelia Hathaway.
When Amelia and Cam first meet, it is when she comes to Jenner's to track down her wayward brother Leo and drag him home. Being a young, unmarried woman, she is accompanied by Merripen, a Romany Gypsy who was taken in by her family when they found him as a boy and who is now like a brother to Amelia. As they two approach the club, it is to witness a fight over a prostitute which is being broken up by an exotic-looking man who handles the situation with ease, then turns back to the club, only something makes him stop. As if sensing her presence, he immediately turns and looks right into her eyes. From that moment, an attraction is born.
Cam Rohan looks like a Gypsy, but is dressed like a gentleman. Half Rom, and half Irish, he is a man torn between two worlds. Having lived amongst the gentry for so long, he longs for freedom, to sleep under the stars, to let go of all the material trappings he's accumulated over time. Then he meets Amelia, a young, sensible woman with luscious curves and respectability written all over her, and it seems nothing will ever be the same again...
Amelia Hathaway is a practical person, no longer given to daydreams and wishful thinking. Having loved and lost once, she has decided that the whole concept of love to be a state of mind for those other than herself, and has devoted her life to taking care of her sisters and trying to get through to her reckless brother, who has suffered a great loss of his own. Now that the family has been elevated in status, she is struggling with her brother's irresponsible ways and fears that he's drinking his way to an early grave. Moving to Ramsay House hopefully will remind Leo of his responsibilities, and improve the family's status, as well as the frail health of her sister Win.
Soon, Amelia learns that Ramsay House is situated right next to Stony Cross Park, the estate of Lord Westcliff, friend of Cam Rohan, whom she thought never to see again. But after one disaster after another, Cam seems to appear and take care of everything, and as time goes on, Amelia finds herself leaning more and more on the strong and capable young man. And Cam decides that some things are just destined to be, even when you have other plans....
I liked this book a lot because I've been wanting Cam to find his HEA for a long time, and I think Amelia was the perfect heroine for him. But as much as I enjoyed their love story, there were a few elements that kept me from loving it completely. One is that it seems there's a distance to it, like I was reading it through a thin film of apathy, in a way. I can't really explain it except to say that it was like watching this from afar with the ability to disassociate from the story, instead of feeling like my feelings were utterly engaged in what was happening. It lacked that intensity of most of Kleypas' work, and I am sad about that.
It have have been because of my second reason for not loving it: the perfection of Cam. Seriously, has there been a more perfect hero? (Probably, I just can't think of any for this post). Cam is the hero most of us think we want, until we get him, then it's like, where are the flaws? If you've read it, maybe you can understand what I'm talking about. Right from the beginning, Cam is there for Amelia, helping her locate her brother, then he shows up for every catastrophe that falls upon the Hathaways. He's kind, understanding, and anticipates the needs of Amelia and her family almost before she does. He's also seductive, patient, and intent on pleasuring Amelia to the best of his ability, which is quite considerable. And how quickly Cam gives into the idea of marriage, despite his supposed longing for freedom. There just doesn't seem to be much of a struggle, externally or internally, that Cam has about marrying Amelia. Events fall into place smoothly, and then it is done. A bit anti-climatic, if you ask me. Maybe it's just me, but I like the angst.
Still, it's Kleypas, and even her most mediocre work makes the best work of other authors pale in comparison. I have yet to read her contemporary "Sugar Daddy" (though thanx to the generosity of an online friend, that shall soon be remedied), so we will see if she maintains her superior skills writing in a new genre. I hear she does. Really looking forward to that.
Rating: ****1/2 out of *****
Labels: Lisa Kleypas, reviews