Tuesday, December 18, 2007: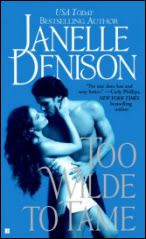 Paperback: 296 pages
Publisher: Berkley (September 6, 2005)
ISBN-10: 0425205282
ISBN-13: 978-0425205280
Mia Wilde has a reputation for being too wild to tame, but that doesn't mean she's going to let someone get away with distributing provocative photographs of her. She needs to find out who is threatening her before her overprotective brothers find out. For that, she's going to enlist the help of private investigator Cameron Sinclair - - the one man who seems immune to her flirtatious and outrageous personality. But Mia soon learns that appearances can be very deceiving.
The moment Cameron agrees to help, he knows he's in deep trouble. Because Mia isn't just your average bad girl. In fact, beneath that wild, untamable facade is a beautiful, too sexy woman who's been driving him crazy with desire. And if he isn't careful, the hot passion sizzling between them might just tempt him to do something he might regret. Like propose something hotter and wilder than either of them had ever imagined . . .
If you've ever read Janelle's "Wilde" books, then you know Mia and Cam have been dancing around each other for quite some time. Mia truly is a wild child, looking for excitement and drama, always trying to shock Cameron out of his conservative socks. And Cam is reluctantly attracted to the dark-haired beauty he knows is nothing but trouble. Yet no other woman has him tied up in knots like this one, and as much as he tries to stay away, he knows he can't. Not only does he work with her family, he feels rather protective of this recklessly, fun-loving woman.
Now Mia is in trouble; someone is sending her threatening mail, and rather than share this with her family, she decides to enlist Cam's help. Knowing he'll keep it quiet so that her overprotective family doesn't try to smother her like they have in the past, Mia also knows she's playing with fire, only in this case, she wants to get burned. Cam is smart and sexy, if a little too reserved, and she wants to be the one to crack that tough shell of his, no matter what it takes. He excites her like no other man, and while she knows he disapproves of her wild ways, she also has a feeling he can't resist them.
Cam knows he's in trouble when he agrees to help the luscious brunette by tracking down her stalker. He doesn't want to want her, knowing that a relationship between the two of them is impossible, but the vibrant live wire arouses him hotter than he can handle, and soon he decides he's tired of fighting his strong attraction to her and proposes that they have a hot and heavy affair for as long as he's searching for her stalker. By then, he should have her out of his system and ready to move on to a more serious relationship. Of course Cam doesn't count on discovering the intelligent, compassionate and artistic woman beneath all that leopard print, nor does he realize that the more he's around Mia, the more likely it is he'll fall in love....
Mia figures that Cam is just like all other men, just a little more of a challenge. Once she sleeps with him, she's sure she'll get him out of her system. Mia is an expert at pushing people away, and she finds it exasperating that Cam refuses to stay out of her business. No other man has tried to get to know her like he has, and no other man has ever had her thinking of a long-term relationship. But Cam is special, and he breaks past through her defenses to discover the secrets she's kept to herself, and once he uncovers them, she knows her heart isn't safe. But what will happen when the case ends and it's time to go their separate ways?
I'd forgotten how much I enjoy Janelle Denison's writing. I've discovered so many new authors lately and have added a ton of new books to my tbr pile that I forget what it's like to read some of my old favorites, and sadly, Janelle turned into one of the ones I've put aside for a short while. Why, I don't know, because I've loved every story I've ever read of hers.
It all started with her 1999 Harlequin Temptation "Forbidden", followed by another favorite, the 2000 release "Tempted". Then she started writing about this incredible group of men known as the Wildes, and I was hooked. Janelle write extremely sensual, provocative love scenes, but she doesn't hold back on creating up this incredible relationship between two people falling in love. During today's current glut of paranormals (especially vampires), erotic romance and overly "busy" storylines, Janelle's strength lies in the straight-up contemporary romance. She starts out with two people who may seem too unlikely to fall for each other, and builds from there. There may be issues each character must overcome, some growing up they need to do, or just facing reality and letting themselves risk their hearts to find happiness.
And in today's show, show, and show some more, Janelle knows how to tantalize readers without giving away the whole store all at one time. Laced with heavy sexual tension, whether it's in a look, a dance, or in the way the hero and heroine talk to each other, there's always this buzz of awareness between them that you can't help but notice. Janelle doesn't knock her readers on the head with explicit sexuality, but rather draws us in with beautiful, earthy attraction and emotionally intimate love scenes that are more exciting than most of the wildest threesomes out there. She relies heavily on the emotional connection and the understanding that each couple is different. You never feel like Janelle recycles her love scenes, but creates them specifically for each couple, and that is the beauty of her writing.
Next up is "
Born To Be Wilde
" which was out in September, and then Janelle's Wilde series spins off with a new series, starting with "Wild For Him" which will be released June 2008. Woo hoo!
Rating: ***** out of *****
Labels: Janelle Denison, reviews