Saturday, December 15, 2007: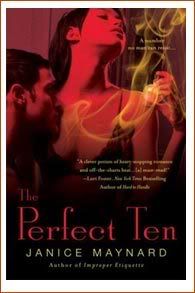 Paperback: 272 pages
Publisher: NAL Trade (January 2, 2008)
Language: English
ISBN-10: 0451222903
ISBN-13: 978-0451222909
Something juicy is brewing in the mystical Blue Ridge Mountains, where the beautiful Killaney cousins are concocting brand-new scents in their shop Lotions and Potions. One April night under a full moon, the three women create an alluring combination of eucalyptus, aloe, and sandalwood that sparks a strange chemical reaction. One whiff and men can't seem to get enough of Love Potion #10 - or of the Killaney women - while Diana, Elizabeth, and Jeannie find themselves being swept off their feet and into their wildest fantasies...
I love Janice's cute, sexy stories, and reading this anthology of three cousins who think they accidentally created a love potion is time well spent. I love the sense of closeness these women share, and how they decide to shake things up and follow their dreams by leaving behind their previous jobs to start a new business in Asheville, North Carolina with their shop, Lotions and Potions, a store that hosts several lovely products as well as those that have healing powers. It's not tales of three witches who concoct potions in their basement, but about these smart, creative women who decide to create something of their own by using their brains, business sense, and caring natures. That really appealed to me about these short stories.
First up, we have "He Loves Me, He Loves Me Not". Damian Bennetti owns a body shop that specializes in high-end European imports, and though he owns the business, Damian loves working on these fabulous, rare cars himself, which leaves his hands in rough, cracked condition. He discovered a cream from the Killaney's shop that works wonders. He's also found Diana, the youngest cousin, who makes him hot. Yet the shy young woman won't give him the time of day, until finally he persuades her to go to lunch with him, and the seemingly reserved lady he thought he was getting turns out to be a rather seductive young woman with a fiery temper.
He really likes this side of her, but Damian came from poor roots, and how can he ever think a pampered and elegant lady such as Diana will ever think of him as more than a temporary diversion. And Diana is convinced the only reason he's interested in her at all is because of that potion that's used in the healing cream Damian bought, that there is some kind of aphrodisiac ingredient that kindles his lust. With so many misunderstandings between them, will they even notice that they are falling in love?
In "Movie Magic", almost-forty Elizabeth is feeling that maybe life is leaving her behind. Having suffered from complete humiliation years ago, she has cut herself off from relationships and focuses all her attention on the family business, but she can't help but feel envious of her cousin, who's found love. As she's lost in thought about new ways to expand the store, a run-in with a reckless skateboarder has her landing in the arms of a sexy and exotic stranger. Enrique Cantilano a location scout for the movie industry and is in town to check out the Vanderbilt house for a current project. Working with women who are aware of their attractive looks, he is almost instantly struck by Elizabeth and her expressive face as it's obvious she does not possess that self-absorbed quality he sees in so many woman in his life of work. Elizabeth is attracted to Enrique, but hesitant to pursue any type of relationship with him, as it would only be temporary. Erroneously judging him as a laid-back beach bum type, she's soon impressed with his work ethic and attracted to his sexy, confident personality, especially when he makes it known he plans on inviting himself into her life and won't take "no" for an answer. But will her past, and his career, keep them apart? Or will they both realize that there's more to life than work?
In "I Dream of Jeannie", Nathan Hardison is doing just that. After having used some shaving cream purchased at her store, Nathan has been having these dreams about the utterly gorgeous and sexy Jeannie Killaney. While initially he is attracted to her because of her stunning body and dazzling beauty, he discovers that beneath the lovely exterior is an incredibly intelligent and interesting woman, one who has him tied in knots. Jeannie is equally attracted and fascinated by Nathan, who encourages her to finish her degree and loves her intelligence almost as much as he loves her body. For such a strong and independent woman, it's refreshing to Jeannie to have a man want to take care of her for a change, especially in bed. Nathan is more than just attracted to the Irish goddess. He also respects and admires her. Having suffered a publicly embarrassing episode recently, Nathan was relieved that Jeannie was a practical woman with an impeccable reputation, but when a newspaper reporter decides to do a story on the "love potion" the Killaney cousins may have discovered, Nathan is mortified. Can he overcome his fears to love the unique and amazing woman Jeannie is, or will he let his past keep them apart?
Erotically sweet, charming and fun, this anthology will have you wishing all it took was a magical potion to find the man of your dreams. (If only it were that easy). However, just as in real life, once these cousins find their ideal mate, they must each work to find their happily-ever-after, because anything worth having is worth working at.
And as with anything, all good things must come to an end, so it was with a bit of sadness that I finished the book, as I'd grown to care for this close-knit group, and I hated to see it end. But then again, Janice Maynard has another book, "By Appointment Only", coming out in July of 2008. It's nice to have something to look forward to.
Rating: **** out of *****
Labels: Janice Maynard, reviews