Sunday, December 02, 2007:
Well, taking the week off has been productive, thank God. Now I can avoid the mall for the rest of the year - yay! I hate shopping under the best of circumstances, but during Christmas, it's like Chinese water torture.
Let's see, what have I been up to...well, so far I've written out over 80 Christmas cards, shopped for my three "kids" that I got at work to buy gifts for, wrapped said gifts. Did I ever mention how much I hate wrapping? Well, it's a fact. It just goes against my nature. Gift bags are a blessing, but since kids love to rip open packages, well, that meant agonizing work for me. They look like a toddler wrapped them, with lots of tape, but you can't tell what they are, so that's all that matters to me.
Then I had to buy a gift for our boss. Wow. What do you buy for someone who has champagne tastes and you're working on a beer budget? The idea of a tea service for one was mentioned. Okay, fine. Sounds easy enough, until you go to Macy's or Carson's and discover that a small, dainty teapot runs you anywhere between $230 to $350, and that's the low end. And everyone and their mother-in-law has a dish line - Kate Spade, Vera Wang - designer cutlery? It would appear so.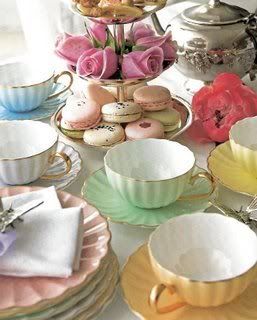 Fortunately, I did find something at this lovely little tea shop called
Teavana
. Now I'm not a tea drinker, but I did try a sample of this amazing tea - a mixture of Jasmine Dragon Phoenix Pearls & Rooibos Tropica - which smells heavenly and tastes even better. Who knew I'd end up liking tea? Well, I might just have to get myself my own little teapot and join the craze.
Tomorrow is our annual Christmas party, and we are going to a lovely Italian restaurant called
Maggiano's
. Last year it was a Greek restaurant. We are just all over the place here. I am looking forward to it, though it feels a bit early, but at least there is no big snowstorm in the forecast like there have been in years past. I'm not ready to face the reality of a midwest winter quite yet.
How are you holidays shaping up?
Having trouble finding the perfect gift?
Find any sweet buys?