Wednesday, December 26, 2007: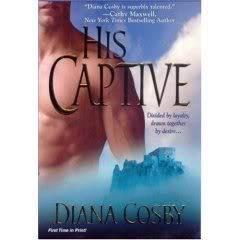 Paperback: 304 pages
Publisher: Zebra (November 1, 2007)
ISBN-10: 1420101080
ISBN-13: 978-1420101089
STRANGERS
With a wastrel brother and a treacherous former fiancé, Lady Nichola Westcott hardly expects the dangerously seductive Scot who kidnaps her to be a man of his word. Though Sir Alexander MacGruder promises not to hurt her, Nichola's only value is as a pawn to be ransomed.
ENEMIES
Alexander's goal is to avenge his father's murder, not to become entangled with the enemy. But his desire to keep Nichola with him, in his home—in his bed—unwittingly make her a target for those who have no qualms about shedding English blood.
LOVERS
Now Nichola is trapped—by her powerful attraction to a man whose touch shakes her to the core. Unwilling and unable to resist each other, can Nichola and Alexander save a love that has enslaved them both?
I picked this book up after Michelle Buonfiglio mentioned it at her blog, and because she said it was remniscent of medieval romances from the "old school" days, and that really appealed to me. It may be wishful thinking, but sometimes it seems that the majority of romances today are all about instant gratification or extreme elements that take away from the core of the story, which is the romance. I was longing for a little more romance in my romances.
Sir Alexander MacGruder had originally intended to kidnap Griffin, the English Baron of Monceaux, but upon arriving at Rothfield Castle, the Scot discovers the baron is nowhere to be found...however his lovely sister Nicola Westcourt is, and in an instant, Alexander's mind is made up: he will take the sister as hostage for the much needed random for the Scottish cause. He doesn't realize how much of a challenge his seductive victim will turn out to be...
Nicola is no shrinking violet, and doesn't comply easily with her kidnapper. Fighting him every step of the way, she doesn't dare tell him that there is no money, certain such a revelation will result in her immediate death. Instead Nicola is determined to escape, even though Alexander has been true to his word and has not hurt her. In fact the stoic Scot even nurses her back to health when the stubborn lass falls ill. But as honorable and and caring as Alexander appears to be, she cannot let her heart soften towards the enemy.
After an exhausting and emotional journey wrought with anger and desire, Alexander finally brings his captive to his home at Lochshire Castle, where his brothers question Alexander's judgment in kidnapping Nicola. But with a battle waging and the certainty of further bloodshed, the men must use every advantage they can to gain the upper hand against the unforgiving and brutal English. Alexander is torn between his loyalty to his family and his growing feelings for a fierce, proud Englishwoman who just may be his downfall....
Reading this story reminded me of some of the medieval stories I've read over a decade ago, even having a touch of an old favorite, Jude Deveraux. Nicola is confused by her attraction to her enemy, and ashamed of wanting his kisses. Alexander wants nothing more than to bed her, but his promise not to hurt her, as well as his own conflicted feelings prevent him from giving in. The sexual tension between the two is potent, yet both continue to deny that anything stronger than attraction is going on between them. Alexander admires Nicola's strength, her determination, her pride, and how she gives as good as she gets. Nicola can't help but notice that Alexander is as honorable and as truthful as he claims, that he fiercely loves his family and will do what must be done to protect them.
But their situation seems utterly hopeless. Nicola knows she is in danger, and is afraid of what will happen to her when her captors realize there will be no money in exchange for her release. Alexander is torn when he thinks of having to return Nicola to her home once the random has been received, knowing in his mind that he cannot keep her, but in his heart he longs for nothing more.
I enjoyed this book a lot, felt it was definitely a grand first book by debut author Diana Cosby, and definitely will be picking up Duncan's story in 2008. It definitely reminded me of those old-fashioned medievals I read over 10 years ago, such as "The Maiden Bride" by Rexanne Becnel, the kind I couldn't get enough of back then.
Rating: **** out of *****
Labels: Diana Cosby, reviews