Sunday, December 23, 2007: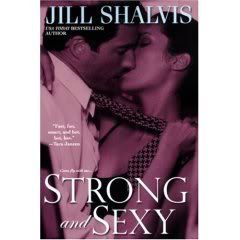 Paperback: 320 pages
Publisher: Brava (January 1, 2008)
ISBN-10: 0758221827
ISBN-13: 978-0758221827
Starring the wildly seductive heroes Noah, Shayne, and Brody, Jill Shalvis's exhilerating new series features a delectable concoction of sex appeal and adventure. Whether they're up in the air or between the sheets, these hot, hardy pilots know exactly where the action is...
In a family of serious over-achievers, Shayne Mahoney has always been the laid-back, easy-going rebel. But running Sky High Air - a charter airline catering to the rich and famous - is a dream come true, in-flight specials included. Like kissing his client's beautiful, brainy daughter in a coat closet. But before Shayne can say "Fasten Your Seatbelts,", Dani claims to witness a murder, gets stalked in her own apartment, and as added bonus, gets them both shot at by a mystery sniper. Normally Shayne would be running from the obviously crazy woman, and yet he finds himself trying to help her, leaving him to doubt his own sanity...
There's a reason Dani never attends her mother's high society parties. The fake people, the shallow conversation - and the fact that she doesn't fit in. She's a zoologist, not a starlet, and happy about it, even if she wishes men like ruggedly handsome Shayne Mahoney would spare her a second glance. Of course, dodging bullets isn't exactly what she'd call the perfect follow-up to their heated kiss, but Shayne makes it clear she can depend on him. All she has to do is hold on tight to his delicious hard body until the ride is over...
I enjoy Jill's books a lot. She writes fun, sexy stories with adorably imperfect heroines and breath-takingly sexy heroes who fall for said heroines. This is the 2nd book in her Sexy series, and tells the story of pilot Shayne, one of the three owners and pilots of Sky High Air. Shayne may seem like the laid-back kind of guy he pretends to be so well, but he's really the core of the airline, the one that brings in the airlines and kept it on its feet when him and his buddies first started out. There is definitely more to Shayne than meets the eye.
When we first meet Shayne, he's just spotted Dani at a party for one of his rich clients, a party the airline is hosting. He notices how she doesn't come across as fitting in with the rest of the confident, glamorous crowd gathered together, and that immediately intrigues him. To watch this lovely, feminine, curvy mess try to make herself invisible definitely catches Shayne's eye, even though he only dates confident, bold women who know how to walk in high heels. But with this one, he has a feeling he won't be bored around her.
Dani is a mess, but a determined one. Though she'd rather be at the zoo with the animals, she tries to make an appearance for her mother's sake. Nearly breaking her neck in those damn heels, Dani has capture the attention of one hot hunk of burnin' love. Oh, Dani knows right away she's out of his league, but that doesn't stop her from wanting some of that. And it appears he wants to give it to her. So when an opportunity presents itself and they end up in a supply closet, Dani lets nature take its course and kisses him. There are definitely sparks.
But before they can start a fire, Dani and Shayne are interrupted, and soon after, Dani decides to leave the party. Alone. And witnesses a murder. Frantic, she tries to get help, and runs into Shayne, who goes into instant take-charge mode and check out what happened, only...there's no dead body.
Knowing she saw what she saw, but also knowing that without evidence, it's pretty hard to argue her case, Dani lets Shayne takes her home. Since she's still pretty shaken up, Shayne stays with her for awhile, and before he leaves, he gives her his business card. Dani figures this is the last of him, and sad as that is to think about, she knows it's for the best. There's no way he's looking for more than just a temporary good time.
But then a series of events leads Dani to contact Shayne, and with all that raging attraction between them, they decide to go for a "one night only" sex special. Only the attraction and fascination doesn't end with one night, nor does the danger. With no one but Shayne to believe her, she's pretty much cemented her rep as a crazy chick. Not one to let that stop her, she maintains her "I can take care of myself" stance, as much as it drives Shayne crazy, and tries to keep her heart from getting involved. Easier said than done, especially when Shayne seems to care for her and won't let her be alone, not as long as there is a threat out there against her. But Dani is an expert at pushing people away, and no one, not even a sexy, caring, protective lover like Shayne, is going to take away her independence.
This is a cute, enjoyable continuation of the trilogy. Not as engaging as "Smart and Sexy", it's still a fun read, told in a bit of a madcap, light-hearted way. The attraction between Dani and Shayne is genuine, and it's obvious from the start that they belong together, even though they've only known each other for only a matter of days. But in a romance, it's about "twu luv", and that's never on a time table.
I will say that I would have liked to have seen more of Dani in action at work; even though her job might not be the most glamorous, it is rather unusual, and since her character is described as being brainy, I would have liked to have seen more evidence of that. Instead she comes across as being adorably flaky and clumsy, a very likeable, slightly insecure person. It also becomes evident that maybe part of her isolation from her family is not all one-sided, that maybe she contributed to that as well. It would have been interesting to see more of that aspect of her family life explored. And sometimes Dani pulls those "TSTL" stunts, but I still couldn't help but like her.
We hear a lot about Shayne's family, but don't get to find out too much about them either. Shayne was pretty much the black sheep of his family, and going into business with his two best friends was a risky venture his family did not support. But in the end, things turned out okay, and the business is doing well.
As much as I liked Dani and Shayne, I admit that I was more caught up in the developing relationship between Maddie and Brody. Maddie is this amazingly efficient, gorgeous wonderwoman of a concierge who works magic all day long, and brooding pilot Brody is completely crushing on her. Their story, "Superb and Sexy", comes out June 2008. I cannot wait!
So if you're looking for a fun, lighter, straight-up contemporary story, this is the bag of potato chips for you. With all the emotionally intense stories I've been reading lately, books like this one cleanse the palate and put a happy smile on my face. Jill Shalvis books are definitely a guilty pleasure for me, and I wouldn't give them up for anything.
Rating: **** out of *****
Labels: Jill Shalvis, reviews