Monday, December 31, 2007: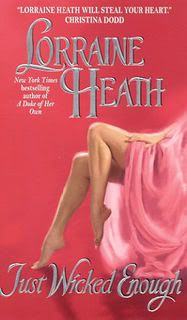 Mass Market Paperback: 384 pages
Publisher: Avon (August 28, 2007)
ISBN-10: 0061129704
ISBN-13: 978-0061129704
Desperate for riches, penniless Michael Tremayne, Marquess of Falconridge, is willing to auction away his only possession of any value--his title--to the highest bidding American father. But Kate Rose was the last daughter he had in mind to marry. The willful and headstrong Kate requires from marriage the one thing Michael is unable to give--powerful, unending love..
Kate refuses to give into her husband's sensual demands until he has earned her love. Michael is not one to back down from a challenge, but neither does he believe in playing by the rules. While he is unfamiliar with love, he is extremely intimate with passion. He is determined to convince Kate that one can substitute for the other. And what better way to convince her than by patiently and skillfully seducing her?
I've never read anything by Lorraine Heath before, but I saw a great "A" quickie review over at Jodi's blog, and it sounded like something I'd want to read, so one one of my numerous trips to the bookstore, I finally picked it up.
I'll admit when I first started reading it, I didn't care much for Michael or Kate. Michael was cold, and a bit desperate. Kate was spoiled, a bit too demanding, and too stubborn when it comes to getting what she wants. But as Ms. Heath peels away their layers and I got to know them, I found myself absorbed in their story.
Michael is just desperate enough to swallow his pride and put himself on the bidding block in order to gain a fortune. "Won" by American banker James Rose, Michael is content to marry his older, beautiful daughter Jenny, but finds out it is Kate, the younger, more intriguing sister, he shall be joined to in matrimony. A little wary but resigned to his fate, Michael weds the girl. To him, this marriage is a business arrangement, nothing more, and he will approach it as such.
Kate is stumped when she finds out Michael has asked for her hand in marriage, claiming an attachment she was unaware of. But to please her family, though grudgingly, she agrees to the marriage, determined that he will not claim his husbandly rights until he earns her love. Let the games begin.
At first, Michael and Kate have no idea how to deal with each other. Michael finds it rather humiliating to discuss his financial woes with his new wife, though she insists if she is to pay them on his behalf. He has no idea how to win her love, never having experienced the emotion, and he isn't happy about being denied his right to bed her. As for Kate, she cannot understand how this stranger is the man who wished to wed her, and she has some conditions of her own if she is going to loosen her purse strings to pay his debts. The two start out their marriage on a rather unhappy note.
But slowly, very slowly, details are revealed which explain why each of them are the way they are. Kate is still heartbroken, having given her heart to another man, and Michael has a secret he hasn't shared with anyone, one that fills him with heartache of his own. One thing they share is a powerful attraction, though Michael is unaware of just how much Kate is actually attracted to him personally. Michael isn't used to having anyone thinking of him, caring for him; it's just a foreign experience that he doesn't even consider the possibility from his own wife. And Kate realizes that Michael is not a man of poetry, but a man who speaks through his actions rather than with words. Maybe he doesn't know what Kate's favorite color is, but there are other things, more important details, that make Michael special, and Kate is finally starting to understand that. But when secrets are revealed, will their marriage be able to survive the truth?
As I said, it was hard for me to warm to Michael and Kate in the beginning, but gradually I found myself getting caught up in their romance. I liked how the story was laid out, revealed in stages, and it became more interesting as I continued reading. I loved that Kate was quite smart, and how men such as her father had no problem allowing her to be in control of her money because she actually knew what to do with it. I loved how Michael started out trying to please his wife; at first because he felt obligated, but soon thereafter, because he truly wanted to make her happy, even doing things he wouldn't normally do because it did please her, and that pleased him. They end up hurting each other, in different ways, but then they start to fall in love, and it was lovely and poignant. Jodi was right, it is a sweet and sexy read. I think I just might have to read more books by Lorraine Heath.
Rating: ***** out of *****
Labels: Lorraine Heath, reviews