Wednesday, November 15, 2006:
Recently I've begun to think (obsess) over getting a tattoo. I don't know why. I've never wanted one before, for a few reasons. One is that I don't like anything enough to want it permanently etched into my skin, and another is that I have a low tolerance for pain. These seem like valid reasons not to get one.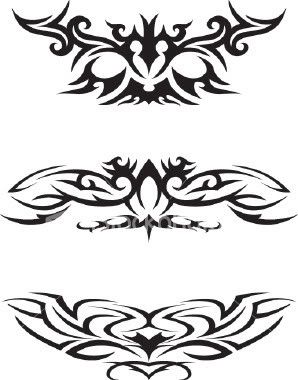 But over the summer, I saw a girl riding a motorcycle, and while she was leaning over the bars, I could see this really cool design on her lower back. It was one solid color, not quite black, maybe a bluer color, and it had an intricate style that really drew my attention to it. It was the first time I felt the desire to have a symbol forever inked into my skin. I was drawn to it, and wanted to know that kind of power myself.
I kinda forgot about it for awhile, figuring I'd never get one. But lately I've started thinking about it a lot. I don't know why, maybe I'm having a delayed need to rebel or something like that. I just know that now I really want to get a tattoo, preferrably. When I asked my friend Becky about it, she told me that women who have tattoos on their lower backs are "easy". Well, sorry to disappoint ya Beck, but I ain't easy, I just think that's the coolest place for a tattoo.
Just a side note: It will probably come as no surprise that I was never a really wild kid. For the most part I didn't cause (a lot of) trouble, and when I rebelled it was in more of an artistic fashion, such as really dark and violent poetry. Fortunately I outgrew that stage, and the world should be happy because of it. I did (and still do) have my moments, but they are all for me. I don't feel the need to shock anyone or get anyone to notice me. If I do this, it's for me and me alone. Though I do think I'll have fun showing it off ;)
What I've posted here are just some examples of designs I kinda like, but none of them are what I want. This last design is the closest to what I am thinking of, but it's missing something, or maybe it's just too symetrical; I would like it more if it wasn't so perfect. Plus I keep thinking that it should mean something important to me, not just be a random symbol or design, like maybe it should represent my culture or some belief that I hold strong. Becky has a tattoo for each of her 3 kids who obviously mean a lot to her, and I like that; it should represent my individuality and make a personal statement because otherwise, I'll be tired of it before long.
How do you feel about tattoos?
Do you have one, and if so, what does it stand for?
Oh, and I personally think guys who have tattoos look sexy, but only if they aren't covered in them. I like the ones around their biceps, or even their arm or back. I don't care for tattoos on legs or the face though. I will say that while doing a little research, I've seen some really creative tattoos, some accentuating our God-given attributes. You just gotta love people and the way their minds work.
So to tattoo or not to tattoo....that is the question....