Monday, November 06, 2006: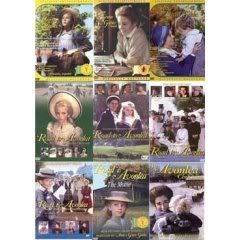 As you can tell from the left sidebar here at my little place, "Anne of Green Gables" is one of my all-time favorite movies. It's also an amazing series of books, and I was a fan of "Road to Avonlea" as well. It's one of those obsessions that I consider to be all healthy, and it's a definite cure for the blues. Anne Shirley is one rocking chick, and she didn't have to be mean or petty to other women to do it. She had the imagination, the sass, and the independent soul that made me just adore her. Nothing was going to keep her down. Love her.
So as I was doin' a little blog-hopping, I stopped at
Jennie
's blog and found
this
. (For more on the story, go
here
). Let me just say, my heart is not happy.
I'm a bit of a purist when it comes to this issue, and don't much care for other authors writing stories based on a popular book/series. In my opinion, it didn't work for "Scarlet", the "Gone With The Wind" sequel, and I dislike all the "Pride and Prejudice" takes out there. What is the point, I ask you? I don't care what someone else thinks about Mr. Darcy's relationship with Mr. Bingley, or whether Scarlett and Rhett really do get together, because to me, it's cheating. I don't care how many notes and outlines the original author may have drafted; unless it came from them, I don't want to read it. Seriously.
Is this too harsh? Maybe. I just feel like some things should be left as is. What if Margaret Mitchell wanted things to stay as they were? Why shouldn't we honor her wishes? (To be honest, I really don't know what her thoughts were on a sequel, but regardless, my opinion stays the same).
I know that in the case of AOGG, the author slated to write the prequel is fired up by the challenge to write about Anne's life before the Cuthberts, which is supposed to be very depressing and harsh, and that she's intrigued by the personality Anne Shirley developed despite her years in the orphanage, but is this really what
Lucy Maud Montgomery
would want? (Btw, I don't know the answer to this either). I just know I don't want it. What about you?
Would you read a sequel/prequel from a different author?
Why or why not?
Do you think there should be a prequel to AOGG?
Which other book(s) would you like to see written?