Sunday, November 12, 2006:
Finally a night out just to have fun and enjoy good friends and excellent, somewhat expensive food. Sadly I don't do this too often, but I've decided that I should because maybe I kinda deserve it. Heck, I work hard, put in a lot of hours, and I'm freakin' responsible (boringly so), so every once in awhile I have to treat myself....even if I haven't won the lottery yet. Does anyone know what it's up to, anyway? I don't even keep track.
All day Friday I was jazzed, anxious for the day to be over. It was a cold, rainy, dreary day, the kind where I prefer to stay indoors, but not Friday night. No, I was excited to be going into downtown Chicago and seeing "
The Pirate Queen
".
Based on a story by
Morgan Llywelyn
called "
Grania, She King of the Irish Seas
", "The Pirate Queen" takes on elements from the extraordinary life of
Grace O'Malley
, a real life pirate from the 16th century who died in 1603. It sounds like it would be a lively, passionate musical, and it was, for the most part. I kept thinking it could have been "more". Grace was strong, and fearless, and fought with the men enthusiastically, compelled by her Celtic nature to protect her family and her land. As is common in her situation, she was to marry Donal O'Flaherty for political reasons: in order to bring the clans together against England. Yet she loved another. Tiernan, her childhood friend.
Grace, while heartbroken, resigned herself to marriage without much of a fight, realizing that it was the only thing she could do for her people. Tiernan, not fully understanding his love's choice, still manages to watch over her though she's married to another. Donal was pleased with the arrangement, believing he was marrying a malleable female who would let him lead the clan as he saw fit, not realizing that ruling was in his wife's blood, and she had the respect of both his people and her own. They have a child together, more as a promise to her dying father, but their union is not to be for a lifetime. Jealousy and betrayal culminate in death.
I think it would have been a stronger piece of work if there were simply speaking parts versus all the singing. The tension and drama could have been better expressed in moments of quieter seriousness instead of rousing music. I also felt that Grace should have been even stronger, dressed more as a female pirate instead of always in dresses which gave her the appearance of being less in power than she was. That probably sounds really sexist or stereotypical, but I felt she would have appeared more powerful if she dressed more like a warrior.
I think after seeing "
Wicked
", I'll admit it was a bit of a letdown. I didn't totally hate it, and I would certainly recommend it, but maybe suggest to have lower expectations, especially if you have seen "Wicked". Both the actors who played Grace and Tiernan had strong, amazing voices, as did one of the female
Irish singers
- her voice was hauntingly beautiful.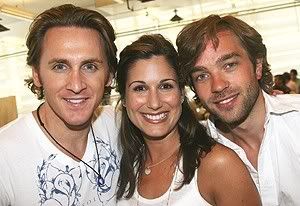 Donal, Grace, Tiernan
After the show, we had an 11pm reservation at
Ruth's Chris Steak House
. I had never had a dinner reservation that late, but from all the comments, I knew it was going to be worth it. Though the evening started with a bit of drama. The show ended at 10:45, so we were in a hurry to make our reservation, and finally managed to snag a taxi. However once we got into the restaurant, Christine (my co-worker's daughter and a friend of mine) realized she had lost her glasses in the cab. Crying, and pouting, and a cigarette break ensued, but finally she calmed down after talking to her fiance (who got her a really gorgeous ring, btw), and all was semi-right with the world again. Thank the Lord. I did sympathize with her, because I used to wear glasses and I know how that feels, yet for someone who's 29 years old, little incidents like this turn into huge dramas, enough to rival the stage production we'd just watched, and usually ending in the immediate need to leave whatever location she is at so she can go home and cry. I know, I'm cruel and heartless to not feel her pain. I admit it. It's just that when you've been through this enough times, my empathy well is drained dry.
Anyways, back to the food. I'd also never heard of this restaurant, but after eating there, I have no idea why. The food was fabulous, the steak still sizzling when it was brought to our table. A simple cooking technique is used, without a lot of spices to take away from the meat's natural flavor. It melted in your mouth, it was soooo good. I'm salivating just thinking about it!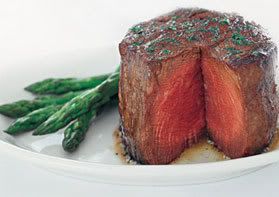 Yes, it did look exactly like this, too. Totally yummy. We each had a martini (mine was chocolate) and we got an appetizer and side dishes, plus one dessert, and I was amazed at how low the bill was. I brought $160 with me, just in case, and didn't even spend half that much for such wonderful food and drinks.
So yeah, all in all, a fabulous evening. Sometimes I forget how much I love living near Chicago, but on nights like that, when everything goes so well, I can't imagine living anywhere else.
Do you feel that way about your city?
Have a favorite restaurant that is worth every penny?
Entertainment of choice: Musical? Movie? Concert?