Monday, August 14, 2006:
Paperback: 304 pages
Publisher: Signet (August 1, 2006)
Language: English
ISBN: 0451218922
Can a book be both sweet and sexy at the same time? The answer to that is a definitive "yes". Over the weekend, I finished LuAnn McLane's "
Dark Roots and Cowboy Boots
", and I sighed with pleasure throughout the entire story and was sad to see it end.
"It was just another day in the life at the beauty salon for beautician Jamie Lee Carter, that is, until a silver Jaguar rolled by her shop. Now Jamie Lee has a sexy and sophisticated suitor named Parker, and this stirs up jealousy in Griff, her brother's best friend. The heat is on as both men take turns vying for Jamie Lee's affections, and this southern girl has to decide if it's Hollywood or Hootertown where her heart belongs..."
Something in me really responded to this endearing, traditional love story, where the plotline was about being back to basics without any external elements to distract from the romance. It reminded me of why I love not just romances, but romantic storylines. It was the type of situation you can relate to, and imagine yourself experiencing, in your own crazy life. There's something really appealing about that - to be able to connect with the characters in such a simple way.
"DR&CB" is a sassy story with filled with both sweet and sensual moments. I loved how LuAnn touched on southern charm but didn't make it cliche' and over-the-top. The accents, the expressions - they were all part of the flavor, and being a Yankee girl, I got a kick out of each and every one. I also adored Jamie Lee's and her best friend Macy's relationship - they held nothing back, and supported each other without question, just like real best friends. No rivalry there, thank God - just true friendship. Another favorite part of the book is how Jamie Lee stayed true to herself - no fancy dresses for this cowgirl. She felt right at home in her jeans and t-shirts, take her or leave her. I totally loved that. Kudos to LuAnn for creating a heroine who wasn't flawless but who knew what the important things in life were, and they sure weren't highlights and expensive baubles.
Basically, Jamie Lee and Griff were extremely likeable characters, and even Griff's competition, Parker, was a decent guy and not your usual sleazy villain. This story focused more on two people who cared for each other but were too stubborn to admit it. It wasn't until other people began to show an interest that both Jamie Lee and Griff began to open their eyes and realize what they had was more real and more romantic than any Hollywood dream. The grass can definitely be greener in your own back yard.
***BONUS***
Fortunately we won't have long to wait til LuAnn's next release: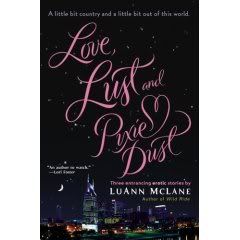 Paperback: 320 pages
Publisher: NAL Trade (October 3, 2006)
Language: English
ISBN: 0451219503
Editorial Reviews
Book Description:
Three new entrancing, erotic stories that are a little bit country-and a little bit out of this world. She took you on a Wild Ride in her last collection of stories. Now rising star
LuAnn McLane
takes you to the achy breaky heart of country music with three magically sexy stories of guitar-pickin', worlds colliding, and inhibitions crumbling. When the somewhat psychic Brooklyn Barone family hits Nashville, nothing will ever be the same. Opposites attract, sparks fly, and even the spirit world gets stirred up in three hot and sexy stories: "Crazy," "Honky Tonk Angel," and "Walkin' After Midnight."
*******
Thank God! An early birthday present - yay! Gotta love those country boys, especially when there are sparks involved ;)