Sunday, August 13, 2006: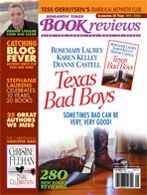 Since I couldn't wait for my copy of the
magazine
this month (well, heck, my name was in it LOL), I decided that once I get the new, pristine copy, hopefully this week, that I will give it to someone who plays my little contest. Maybe you've never read it, or your subscription expired - doesn't matter. You can still play.
All I'm asking for is to provide the name of a song you'd like to see "played" here at my blog, and if I draw your name and it's available, I will play it for at least one week (even if I don't like it and it's not filled with profanity LOL). Please include the name of the song and the singer/band so I make sure I have the right song.
Contest is open to everyone, and I will pick someone
Wednesday, August 16th
. Good luck!