Wednesday, September 15, 2010:
It's Leontine Time! This girl is one of my absolute favorite book reviewers. She completely blows me away with the way she describes a book. And she's got a fabulous blog to post those reviews. You can also go there just for her stable of studs and believe me, you will be well satisfied ;)
Here's Leontine to tell you a little about herself, and God bless her for being here today.
Feel free to tell us about yourself: name, background, etc. Are you a reader/blogger/writer?

My name is Leontine, I'm 34 years young and once upon a time I graduated for my degree of neonatal nurse but I worked many years in a children's daycare centre and now lead the *coughexcitingcough* life of an naughty romance researcher. I'm an avid reader of Paranormal Romance / UF / Fantasy Romance / Erotica, M/M – BDSM – Ménage – Dark Erotica and as a side dish also read Contemporary, Romantic Suspense and Historical Romance. Uhm, yeah, I might as well call myself a very eclectic reader *grin* Next to being an avid reader I consider myself a person who loves to blog too. Sometimes it's a time suck spinning out of control but at the end of the day I still enjoy it to the fullest!

Since I was a wee young girl I always had a vivid imagination and for a part lived in my head. This hasn't changes as an adult and part of me would love to write :) I think I definitely have the imagination for it but between my imagination and my keyboard to write it up in a story is a huge glitch. So I'm the only one who is currently enjoying all my fantasies but you never know what the future might bring. Never say never!

Do you have a blog? What is the name/link and how would you describe your blog?

My Blog carries the name;
Leontine's Book Realm
; A Naughty Romance Researcher At Play. It is literally a place where I get to play with all the things I love so much regarding books. I aim to have a blend of reviews, features, some promo like guestblogs and interviews, and a bit of personal stuff - mostly regarding me as a reader.
I love character interviews and though I haven't taken the time lately
The Beefcake Preview Club
is still a feature that's going to be present again on my blog.
Next to this I'm also the Cover Hussy Queen of the Cover Hussy Club. I love covers, cover candy and a cover artist creativity, so me and a group of ladies decided to have one day a month where we present our "cover research".
Next to this I also have temporarily features. This summer I had the Smutty Researcher At Play feature; 14 days of erotic fun is what we had :) This Fall I have my 'The Vampire, The Shapeshifter & The Kick Ass Chick feature; I looked at my pile PNR books and I just had to sample some new authors. A feature like this always is an extra push for me to get going. Coming December I will have an Angels feature, not sure what it's all going to entail but Angels have invaded my shelves this last year!
Next to LBR I also have my place in the ROOB posse at
REALMS ON OUR BOOKSHELVES
. I think if there is one place that's been my home with all the changes I've gone through as a reader of English novels then it's this place, and for that fact only it holds a very dear place in my heart! Not to mention I share my love for books there with three fabulous chicks:
Natascha
,
Marissa
&
Pearl
.
What book(s) are you currently reading? Would you recommend it?
Currently (9-13-2010) I'm reading Stacia Kane with UNHOLY GHOSTS and the kick off novel in this series is impressive so far so I would certainly rec it and later today I'm going to start in a debut erotica from Kele Moon titled; BEYOND EDEN!
What is your most anticipated soon to be released book?
I have two books I'm pining for: C.L. Wilson's CROWN OF CRYSTAL FLAME ( I always have to look up the title, for me it's still Tairen Soul LOL) I also can't wait to get my hands on Nalini Singh's PLAY OF PASSION, Singh is one of my author who constantly gives me books I love to read.
What's playing nonstop on your iPod rotation right now?
Uhm, yeah, here is where I tell you I'm a gadget Neanderthal and have no iPod. I love to listen to various songs from Lady Gaga, Beyoncé and Enrique.
What are your favorite places to visit online?
Google is by far the site I visit the most on a day. It's my gateway to all sorts of info and images a book & creative junkie needs.
Of course I have a "few" blogs I regularly visit, the one's of;
Fiction Vixen
,
Cecile
, my sister Natascha,
Blodeuedd
,
KC/K-Khan
, Tanya, Pearl, Marissa,
Mandi
,
Carolyn
,
Erotic Horizon
, just to name a few.
I also tend to visit The Saurus.com a lot for my synonym's. Quite some time ago I realized how stuck I was in a certain loop of English words while I write my reviews, so synonyms were the answer :)
And I just wanted to add, since it's so very me – my favorite programs to work with on the computer are Photoshop and Artisteer (blog design) If that wasn't on my computer I would be so lost.
What are some of your favorite things: beverage? food? t.v. show? restaurant?

I love a coke and rum. I'm always in the mood to munch on spare-ribs / pasta / a good salad and all things chocolate. I have a select few TV series I actually continue to watch and I am more a gal of watching a TV series on DVD; DEXTER – SUPERNATURAL – GREY'S ANATOMY – COLD CASE – THE CLOSER – NIP/TUCK – WITHOUT A TRACE – LAW & ORDER SVU and HOUSE. Hhhmmmmm, well, perhaps it's more than a few huh ;)
Which hottie out there is to die for?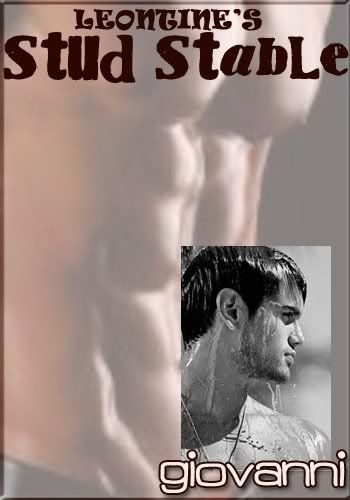 Can I just give you the key to my Stud Stable? Here is what dwells there, I dubbed this one Giovanni.
What is something unique about where you live?
*I iz pondering now* I live in a small town so there's not much here that will baffle you? I have a three hundred year old working mill behind my apartment complex…would that be unique?
What is your idea of a romantic gesture from your sweetie?
It's the small gestures of my hubby that have the most romantic impact on me. Taking me outside to soak up some sunshine when I feel gloomy, giving me a hug when I have a crappy day, say that I'm still sexy when I feel bloated and giving me an unexpected pressie at an unexpected moment and knowing exactly what makes me happy.
What would people be surprised to learn about you?
That I got to know my hubby via a contact ad in a magazine and had a scorching hot letter exchange before we actually met two months later.
*Fans self* Wow, that sounds like a romance story in the making! Thank you Leontine, for joining me today. I LOVED having you here, and I admit, I adore chatty visitors. You made my day.
And I'm definitely going to have to check out some of these web places you mentioned. Interesting and informative, that's what my guests bring to the table :) Thank you all for visiting with Leontine today. You guys make the internet a fun place to hang out :)
Labels: online friends, spotlight