Thursday, September 09, 2010: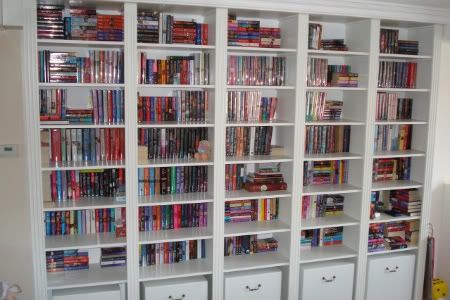 Hey, welcome to another exciting edition of Guest Spotlight! *g* I'm so glad my Marissa, my lovely guest today, sent me this picture you see above. What reader doesn't just drool over all those books. It's absolutely gorgeous, and I thought it should kick off her post.
[And you may notice that Marissa called me Tracy. I purposely left it in because I get called Tracy ALL THE TIME, so it's not unusual for me to respond to it, and I thought it was cute! :) ]
But today is all about Marissa, and I'm thrilled to have her her today. I love her blog and wish she was able to visit on Twitter more often. And Marissa just so you know, you are NOT boring!!!

Feel free to tell us about yourself: name, background, etc. Are you a reader/blogger/writer?

Hi Tracy, thanks for having me as a guest on your blog.

My name is Marissa; I live near Rotterdam in the Netherlands with my partner and my two kids (7 and 3). As a child I used to travel frequently and lived a while in Africa and some other places as my father worked abroad, but now I am firmly grounded in The Netherlands, after all there's no place like home. I am in my thirty's and recently went back to work as an office manager & paralegal, and though I love my work it is seriously getting in the way of my addiction... books!


I love to read and like to blog every now and then when I have the time. I am not a writer nor want to be one. No talent whatsoever for that, it always amazes me how some writers can surprise you with their storylines and drool-worthy characters, I love that so I will stick to reading.
Do you have a blog? What is the name/link and how would you describe your blog?
My blog is
Marissa's Lair
. I review romance books. My favorite genres are historical, paranormal, and contemporary romance, erotica and romantic suspense. The genres you won't find at my blog are urban fantasy and young adult, I don't know why but somehow those genres do not appeal to me. But maybe one day... I am willing to try out other genres if the blurb of a book appeals to me. I also review for
Realms On Our Bookshelves
.
What book(s) are you currently reading? Would you recommend it?

I have just finished
Hot Finish
by Erin McCarthy, part 3 of her Fast Track series. Would I recommend it? Yess!!!! I love this series, I love the stockcar racing background, the characters, the men are delicious, the women strong, and I love the wit, the dialogues. This part is about Suzanne, who is easy to relate to and Ryder, a typical, but yummy man. They have many Mars-Venus encounters.
Hot Finish
is easy and light to read, a real feel-good story so yes everyone who loves romance should read this series!
What is your most anticipated soon to be released book?

I am really looking forward to read J.K. Beck's paranormal trilogy
When Blood Calls, When Pleasure Rules
and
When Wicked Craves
. But I have so many great books on my to-be-read pile, right now it is +1000 high, so way too many books to read and not enough time….
What's playing nonstop on your iPod rotation right now?
I am very eclectic when it comes to music; I have both classical music and hard rock on my iPod. Love music from the '80's so it really just depends on my mood what is playing on my iPod. But right now I listen a lot to a Dutch band called Kane, love their song No Surrender.
What are your favorite places to visit online?
Bookstores! In the Netherlands we don't have the huge bookstores you have (I am so jealous!), and the local bookstores do not sell the genres I read (I quote "we only sell quality books, no romance", I so hate it when they say that…) so I have to buy all my books online, I spend a lot of time visiting the Book Depository and Amazon.
What are some of your favorite things: beverage? food? t.v. show?
I love Italy, I love Italian men, so I also love Italian food. I hate coffee but I love tea and orange juice. Touch or take a bite of my chocolate and you will regret it; I am very possessive of my chocolate. My favorite dessert is tiramisu, but anything with strawberries and whipped cream will also do. I love "
stroopwafels
" (Dutch cookies) and "kroketten" and no ketch-up on my French fries but mayonnaise! I love a good glass of wine, both red as white and I live on Coca Cola Light. My body contains 70% of diet coke instead of water by now I think... I have a weakness for bags, shoes and Marlies Dekkers lingerie and I love to watch
Grey Anatomy, True Blood
,
Spartacus
and a good movie when I have the time.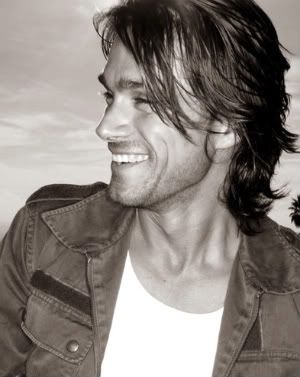 Which hottie out there is to die for?

Ehmmm, the right thing to say right now would be my beloved partner, but … I am a sucker for the dark hair and blue/green eyes type. I like them a bit older and for me there can be only one, (I can already picture the ROOB posse rolling their eyes, they know what is coming now), he is the one and only Beiron Andersson! I wish he had a single twin brother.
Favorite restaurant?
I do not go out that often anymore because of the kids so I don't really have a favorite one; I love Rotterdam, that is my town. Rotterdam has many different restaurants that serve great food. As long as I don't have to cook, get to hang out with my friends, have lots of laughter and a good glass of wine I am happy.
What is your idea of a romantic gesture from your sweetie?
I think my idea of a romantic gesture is different than my partner's idea of a romantic gesture lol…
He is not the flowers and chocolate type but every now and then he surprises me with something I really covet, like a new bag that had my name on it for a very long time or a weekend away without the kids.
What would people be surprised to learn about you?
I love history and have this penchant for old churches and cemeteries, whenever I am abroad and an old church or cemetery is nearby I have to visit it. I can spend hours in a place like that; old artifacts and history fascinate me. My partner fell asleep once on a garden bench while visiting an old castle, according to him I looked at every old stone with a magnifying glass, I just love to learn the stories of the people who lived there once.
Witte Huis

Well, I had fun answering these questions, so thank you for having me as your guest Tracy!
Marissa, thank YOU for being here! I loved getting to know you and I find other countries fascinating. And I definitely want to find out more about this Beiron Andersson ;)

Labels: online friends, spotlight