Wednesday, September 01, 2010: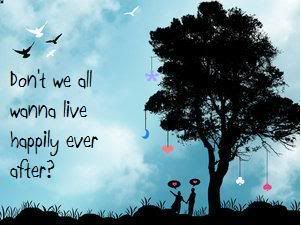 Last night on a Twitter chat, I asked the author a question about the HEA - that much coveted Happily Ever After - and whether or not an HEA could end in future books of a series. In her case she said "yes". That nothing was safe in one of her books. Now granted, she writes paranormal, so there's a lot that can go on in a paranormal story that I can accept because that's almost an unwritten law in paranormal/urban fantasy. Yet for me, one thing that is very important to me is the HEA.
By the end of the book or the series, that is one definite that must be met in some fashion. Otherwise, don't you dare label your book a romance. A romance has the payoff, the pot of gold at the end of the rainbow.
Now I understand that a lot of authors - as well as readers - want a more compelling, realistic story. They are hungry for books that push the envelope and challenge them. I get that. Real life is not all hearts and flowers, and sometimes your soulmate can end up being the scum of the earth. But I am one of those people that turned to romance for the escape of all of that. And I want it to stay that way.
If an author chooses to kill off a beloved character or end the forever kind of relationship they first created, ultimately that is their decision. I'm not going to say "think about that really hard first" because I'm sure they are fully aware of the ramifications of such an action. But what I would like to see is some type of indicator in the book or series letting me know this is not a traditional romance. Something that is going to say "be ready for anything". A disclaimer or warning that your heart might end up broken by the end. Because once you kill my happy, I'm gonna be mighty cranky about it, so you'd better warn me first.
What are your thoughts on the risks of the HEA?
Are you open to anything, or is
the HEA sacred in your eyes?
Why or why not?
Labels: HEA