Monday, August 30, 2010: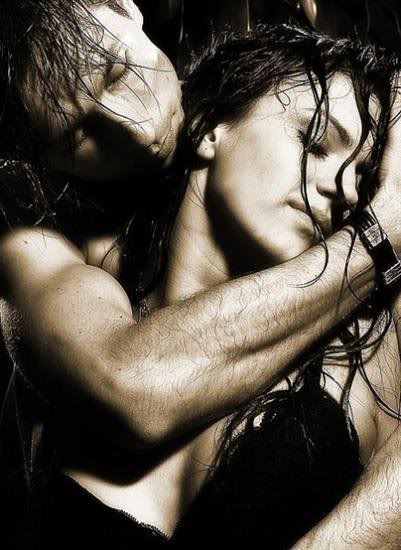 Maybe it's because it's Monday, or maybe because it's supposed to be in the 90's today, but I was thinking I felt in the mood for a little pick-me-up today. Whatever the reason, I felt drawn to this image. I needed something stimulating to get me going today.
This picture does just that. It's both incredibly sensual and sexy, ripe with tension and anticipation. And what makes it even hotter is that you use your own imagination to fantasize what happens next, whether he takes her up against the wall or perhaps gives her a slow, thorough massage first.
But what I might find sexy, you may not. Maybe you like to leave things to your imagination, or maybe you like explicit, raw, dirty goodness. Doesn't really matter. My point is, we all find different things sexy. Some prefer a subtle, barely there suggestion, while others crave the very public, very raunchy, smutty seduction. It's one of the things that makes us unique - and that is what excites us. None of it's wrong. We're not deviants who should feel guilty for what turns us on.
The reason I even bring this up is because on my beloved Twitter, there is a lot of talk - and viewing - that can certainly be considered improper. Not wrong - I don't think there's anything wrong with being improper from time to time, but lecherous, racy, lustful, suggestive, and yes, even vulgar. For the most part, I don't have a problem with it, but there are some images that I feel are there more for the shock value and don't do a thing for me. I choose to ignore them. But I'm sure there are others out there who are horrified with these images, and some of the conversations, and I have to wonder when is it too much?
As far as I know, Twitter is not promoted as a "family friendly" forum. It's pretty much anything goes. One of the reasons to love it, but also one of the reasons to hate it. Am I wagging a disapproving finger at those who post these pictures? No, not at all. But I do think that there should be clearer indicators of exactly what it is you're posting before it's viewed by the objecting and/or too young eyes. And yes I know, I've seen some things that have made me want to bleach my eyes, but that was my own damn fault. When people warn me not to look, well dammit, I wanna look!
So what I want to know is this:
How do you feel about explicit pictures or links to said pics
posted on Twitter?
Should they be clearly labeled?
And just how much is TOO much?
Labels: sexy