Tuesday, September 07, 2010: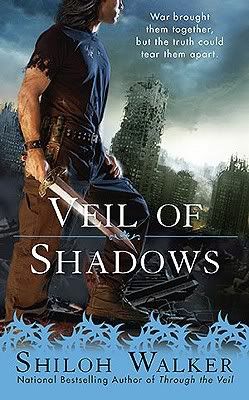 A rebel army has been established to win back the land from demons-and a ne soldier named Xan has appeared out of nowhere to join them. Beautiful army captain Laisyn Caar is shocked by the powerful, all- consuming desire she feels in his presence, but when she discovers the dark secrets of Xan's agenda, she'll have to determine whether the man she's starting to love is a friend of her people-or a dreaded enemy.
Once again, I was fortunate enough to receive an ARC for Shiloh Walker's latest release, Veil of Shadows. This book is the 2nd one in her Veil series, and I can't decide which I liked better. But if that's the worse complaint to have about a book, it's not a bad deal.
This time around, we get to delve even further into this grim, murky world of magic and demons. Captain Laisyn Caar is more than capable of leading her team, yet many are skeptical that such a slight, small woman can handle herself in a decent fight. Those doubters soon learn otherwise when going up against her taunting challenge. Syn is no fool, but she knows how to fight, and she knows how to take care of herself as well as her team. When a stranger comes to their camp, Syn is immediately aware of this dark, brooding man. And when he feels uncomfortable fighting her, she lets him know the only way to get him past his prejudice is to prove him wrong. Before long, Xan has to admit that a woman can hold her own in a fight, and that she is a natural to lead this team against the demons that wish to devour them and the Warlords that wish to conquer the witch.
Syn is tired. They are running low on supplies, and too many people are questioning her authority. When a compelling man comes to camp, she's immediately aware of him, and disturbed by those feelings. Not that she'd let that get in the way of enjoying him, but life at the camp is risky at best, and the chances either one of them will survive for long is less likely than being chomped on by a demon. But Syn is a survivor, and a fighter, and she's not willing to go down easy. She knows that leaving camp is dangerous, but she has to do something, otherwise they will all die.
But the one thing that may help them - magic - is forbidden by her Commander. Kalen is afraid that letting the 3 powerful witches use their powers will attract the dangerous attention of the Warlords, and he's not willing to risk any of them. What he doesn't understand that a witch who doesn't use the magic is not fully living. It's up to Syn to convince him that unless they are allowed to help in this way, they're all dead anyway.
But Warlords and demons are not their only enemy. There are others, lurking in the shadows, just waiting for a vulnerable moment where they can come out and play. Or kill.....
My thoughts:
It's been over 2 years since I reviewed the first book in this series, Through the Veil, and I had forgotten how drawn in I was to this world. We get to see more of Lee and Kalen, and we also get to know more about Syn and the other witch, Elina. I liked Syn a lot. She's not quite as grumpy as Lee, but she's got a definite edge to her. I have to admit, when another woman challenges her, she doesn't just turn the other cheek, and I loved it. She kinda rubs her nose in it, but at the same time, when things get tough, Syn will fight side by side if it means protecting her team. Syn gets by on her natural leadership and ability to make the tough decisions, choices she doesn't always like, but knows are necessary in order to maintain control. At times, she can be a bit unforgiving and unwilling to listen, but she's not always given much of a choice. Sometimes there is just no other way, and she doesn't have the luxury of soothing hurt feelings and concerns. They are fighting a war, and Syn doesn't have a lot of options. She must do what is best for all of them.
Xan is mysterious and solemn, keeps much to himself except when it comes to Syn. Right from the start he's drawn to this strong, commanding woman, and respects the decisions she has to make. Though initially he's resistant to go up against her in a training exercise, he soon learns that the best way to fight is to be prepared for any instance, even if it does mean fighting someone smaller than himself, someone decidedly more feminine. But she doesn't pull any punches, and Xan respects her even more for it.
In their world, life is precious. It may seem at times impossible to imagine that two people can connect so quickly, but they don't have the certainty that they will even have a future. Xan is understandably still protective of his woman, not wanting her to use magic if it could harm her in any way, but he understands her need for it, like breathing, and he tries to be supportive, even though it makes him angry that she's taking such risks. But the rational side of him does understand. And he proudly fights side by side with her, which made me like him even more.
It's obvious anyone who shows up the way Xan does would have his secrets. We don't find out what those are right away, so there's always that cloud of uncertainty hanging over their relationship until we discover just what kind of man Xan is. And just what Syn will do once she finds out...
I loved revisiting Lee and Kalen again. We see how they are adjusting to marriage, how their happily ever after doesn't come sprinkled in fairydust. Their lives are hard, but they make the most of what they have. And I really hope we get to enjoy Elina's story next. She's mighty powerful in her own right, and aching for a man who walks the world mostly on his own.
The more I think we know about this world Shiloh has created, the more interesting little tidbits she tosses in to keep us wanting even more. Once again I was completely absorbed in her storytelling, and now want to go back and re-read both books back-to-back to experience the full affect. Just when I think I'm immune to her writing, she sucks me back in and I gladly go where the story takes me. I can't wait to go back :)
Rating: ****1/2 out of *****
Labels: review, Shiloh Walker