Friday, September 17, 2010: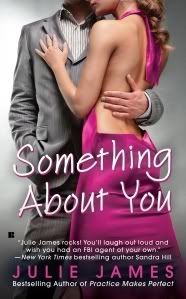 FATE HAS THROWN TWO SWORN ENEMIES. . .

Of all the hotel rooms rented by all the adulterous politicians in Chicago, female Assistant U.S. Attorney Cameron Lynde had to choose the one next to 1308, where some hot-and-heavy lovemaking ends in bloodshed. And of all the FBI agents in Illinois, it had to be Special Agent Jack Pallas who gets assigned to this high-profile homicide. The same Jack Pallas who still blames Cameron for a botched crackdown three years ago—and nearly ruining his career…

. . .INTO EACH OTHER'S ARMS

Work with Cameron Lynde? Are they kidding? Maybe, Jack thinks, this is some kind of welcome-back prank after his stint away from Chicago. But it's no joke: the pair is going to have to put their rocky past behind them and focus on the case at hand. That is, if they can cut back on the razor-sharp jibes—and smother the flame of their sizzling-hot sexual tension…
Recently I won a signed copy of Julie's book on Facebook, but since I am lucky enough to already have one, I decided to offer this one up in a contest.
Simple rules: just respond to the contest question no later than noon CST on Friday, September 24th. Open to everyone. Must answer the question in order to qualify.
Question: Since one of the characters in Julie's book is an attorney, my question is:
What is your favorite law show and/or character?
Now you are free to go forth and enter :)
Labels: contest, Julie James