Monday, January 25, 2010:
In case you haven't been around my blog here in the last week or so, I had finally decided to attend the Chloe Neill signing in Wisconsin this past weekend. Once I figured out where it was, it was only about a 45-minute drive from home, so despite the icky weather, I was determined to go.
In fact, I ended up attending both signings, and met some really cool people there too. That's one of the fun things about attending these events.
The first signing, at the Barnes & Noble in Racine, was already in progress by the time I got there. Yes, I had gotten there about an hour early, but I went to go eat and got to the store right at 1pm.
Chloe spent some time talking, then took questions. I love this part, and even felt comfortable enough to ask a question of my own: what type of music did she listen to while writing the Chicago vampires (Nine Inch Nails, and she also watched a lot of Bones & NCIS). She then signed books and chatted with us. Very informal, and we learned that she has not been invited to Chicago by any of the bookstores. Gasp! Well that is something I plan on working on. Another fan, who lives not to far from me, is intending to contact our local Barnes & Noble to set up a signing here. I think that should be mandatory!
Originally I hadn't intended to go to the 2nd booksigning in Greenfield, but then I found out from the store that
it was only about 20 miles away and very easy to get to, so of course I decided it would be worth it. I headed over to the mall, and since I had time, grabbed something to eat and scoped out the nearby Borders. Then I headed over to the B&N, where the setting was a little more intimate, and it was even more fun because we got to sit down and chat and just enjoy spending time as a group. Krista, the one who lives not to far away, is another fan, and she gave me some great recs.
We also learned more about Chloe and the series
that I didn't know about, such as:
* Chloe Neill is a pen name.
* Ethan was inspired by David Beckham. Catcher by Paul Walker (yum). And Chloe had Zoey Deschanel in mind for Merit, as well as Jill Flint from the USA Network show "Royal Pains"
* She listened to "Alone" off the Glee soundtrack, like, A LOT, as well as the song "Possiblity" from the New Moon soundtrack and the band Muse. She mentioned Imogen Heap as well.
* She's read and enjoyed the books of Sherrilyn Kenyon, J.R. Ward and Kim Harrison
* Chloe also reads a lot of travel logs and nonfiction by A. J. Jacobs
* She raves about writer Neil Gaiman
* Chloe chose Chicago for her vampire series because New York, L.A. and New Orleans have been done before, and Chicago has a rich and dark history
* She has 3 books under contract so far for her Dark Elite series (and we hope for more)
* Never say never, but chances are she might not write a stand-alone book. She really likes the character development of a series.
* ...and last but not least, we did not get ANY good gossip on Merit or Ethan! Bummer!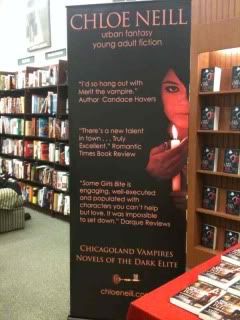 But hey I'm not complaining (much) because I got the chance to meet a favorite new author, and I got my books signed. I also bought the first 2 in the Chicagoland Vampire series that I also had signed and need to figure out what kind of contest I'm going to have. Hmmm....
Now for those of you who would love to meet Chloe and want her to come to your hometown, one thing that might be helpful is to contact your local bookstore(s) and request that they invite her in for a signing. I know she's very receptive to the idea, so give it a try. Let them know you'd love to have a favorite author come to their store. Really, it's so easy, and it's a win/win situation: the reader gets to meet a fun and interesting person, the writer gets their name out there and sells some books, and the booksellers are making a profit without really having to spend much money to promote said author. And if the booksellers are savvy, they've figured out that readers, especially romance readers, buy in bulk. It's very unlikely that we stop at one (see previous post about my 16-book shopping spree!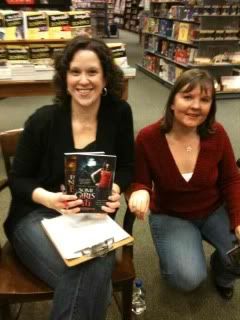 Some exciting news:
Chloe Neill night be coming back to the area in July, when the 3rd Chicagoland Vampire book is released! I've already marked it down on my calendar to attend. And just maybe she'll have a signing in the Windy City!
So far Chloe doesn't have any plans to attend the conferences throughout the year, but I'm hoping she'll consider attending the Lori Foster/Dianne Castell gathering in June. Definitely an inexpensive and fun way to interact with readers and other authors. We'll see just how persuasive I can be *g*
I apologize for the poor quality of the pictures. I used my phone, which doesn't take the best pictures but it's quick and easy and fun to play with and allowed me to take notes and Google some of what Chloe was talking about. I've bookmarked some new tunes and websites to check out, based on some of her comments.
A huge "thank you" to Chloe for doing the signing so close to where I live, and it was a pleasure to listen to her talk about books and answer our questions. It makes me even more impatient for the next book!
Any booksignings in your future?
Labels: booksignings, Chloe Neill