Thursday, January 21, 2010: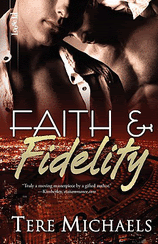 Who doesn't love a good romance? The majority of what I read consists of that simple formula, which was formerly known as boy meets girl, boy and girl have issues, boy and girl work on issues and fall in love. Now, it's not so much boy meets girl. It could very well be boy meets boy.

Ah yes, boys. Who knew reading about two hot, sexy, masculine men getting all nekkid and being dirty together could be so much fun? Not me, at least not for a long time. I definitely believe in love, and what that means between two people, regardless of the combination, and a significant part of the enjoyment is the hot lovin' between them, and I've always been drawn to very earthy, alpha guys in my romances. So to read about TWO alpha men is even better ;) There's just something so thrilling about the raw, agressive nature of two guys acting out their sexual fantasies together. Whew, turn on the a/c! Even in the middle of frigid winter, a scorching m/m romance can send you up in flames.
My absolute favorite kind of m/m romance is the kind where it's two heterosexual men who fall in lust, then eventually love. There's just something so wickedly sexy about the forbidden feelings for each other, the longing and the need to be with someone so strongly yet not really knowing if they feel the same way. And that moment when one or both lose control...whoa. Now that is what I'm talking about! *g*
I haven't read a lot of m/m romance, mostly because the majority of it is in ebook format, but I've read 5-10 books in the last year. Today I'm looking for suggestions, especially for those stories with my favorite theme, again, that would be two heterosexual men who can't resist each other. Just for clarification, I have read "My Fair Captain", and thanx to several Twitter pals, have added "Faith & Fidelity" to my list, as well as "Grey's Awakening".
Give me some man love recommendations:
Which m/m romances float your boat?
Labels: alpha males, m/m, romances