Tuesday, November 17, 2009:
A few months ago, some of you may remember that I was all gushy over Leslie Parrish's recently released romantic suspense series. Though some time has passed, that hasn't changed a bit. In fact, I'm hoping quite madly that there will be more books in the Black Cat series for us to enjoy. There are things we need to know!
And that is partially the reason why Leslie is the featured guest in this week's author spotlight. In addition to being one of the Plotmonkeys, a group of 4 wonderful writers and friends whom I've had the pleasure of meeting over the years, she has also been incredibly generous with her time, letting me harass, um, interview her for my blog. (Here is m
y
interview
with Leslie). I feel very fortunate to have had the opportunity, because not only is Leslie one of my favorite romantic suspense authors, she's also someone I like a whole heck of a lot. The girl's a good egg :)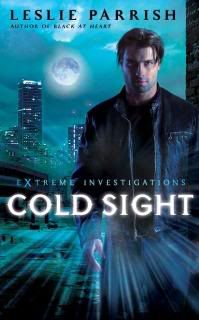 Something I recently learned about at Leslie's blog and am quite excited about is that though it's not about a Black Cat book, Leslie continues to write like a fiend, and this here is the cover (but perhaps not the final version) to her new eXtreme investigation series, Extra Sensory Agents. If she writers paranormal half as well as she writes romantic suspense, I am going to be one damn happy reader. I don't know any more details than that, but I will try to stay on top of things because if nothing else, I'm dying to find out.
I find it interesting that she's not electing to have a 3rd pen name for these books. It makes sense to me that she isn't, if the series are similar in mood and subgenre, with just a hint of something extra thrown in the mix. Personally though it wouldn't make a difference one way or another if she elected to go with a completely different name or not. The writing is what matters most to me. So here's to another awesome-sounding series being written by one of my favorite writers. It's definitely going to be an auto-buy for me.
Just out of curiosity: would you follow a favorite author into a subgenre that doesn't appeal to you?

Labels: Leslie Parrish, spotlight