Wednesday, November 11, 2009: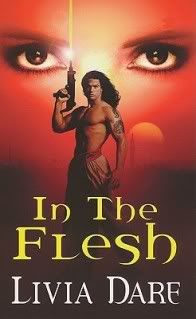 AN INFAMOUS BEAUTY. A DARING WARRIOR. . .

For five years, Sapphire has been the King of Sari's most treasured concubine. Independent at last, she refuses to put herself in anyone's control again. But now another's meddling has led her into the path of proud, arrogant Wulfric, Crown Prince of the rival kingdom of D'Ashier. . . a man who is dangerous to her in every way.

AND A SEDUCTION THAT COULD DESTROY THEM BOTH

The daughter of Wulfric's fiercest opponent, Sapphire is a prized warrior in her own right and highly skilled in the sensual arts—in short, Wulfric's perfect match. A lasting union is unthinkable, but the bargain they strike—to spend one night together, and then part—proves impossible in the face of a desire powerful enough to bring two countries to the brink of war, and two hearts to the point of surrender. . .
I've been a fan of Sylvia Day for years, and having recently loved her SJ Day books, I was excited to see yet another series, under the name Livia Dare, being released. This is a story Sylvia wrote 5 years ago, which has now been renamed "In The Flesh".
Sapphire is the king's favorite concubine, yet despite the pride she takes in her work, this is not a love match, at least not for her. Sapphire is a pragmatic woman, and knows the king doesn't really love her, at least not the way she deserves to be loved, and she's fully aware of the strain her presence places on his marriage to Queen Brenna. In fact she encourages him to go to his wife, to start a family so that he will finally have an heir, but the king is obsessed and wishes to be with no other woman but Sapphire. However the king does agree to release her from her contract, making her a free woman, with the belief she will return to him. However Sapphire has other ideas....
Prince Wulfric knows something is amiss while out on patrol with his men, but by the time he fully realizes it, it's much too late, and the prince is taken prisoner. Beaten and tortured, his death is almost assured, until Queen takes matters into her own hands and devises a devious plan that will most assuredly end in Sapphire's death. By placing Prince Wulfric as Sapphire's prisoner, the queen believes once Wulfric realizes who is holding him captive - the daughter of his enemy - he will murder her.
Of course because this is a romance novel, things don't go according to her evil plan. For one thing, Sapphire doesn't count on the immediate lust she feels when she gazes at Wulfric's masculine perfection, or that her body would betray her so shockingly in his presence. For another, Wulfric is near death, and almost embraces his fate, until he witnesses the sensual concubine's inability to disguise her intense attraction to him. Something about the way her hungry eyes gaze upon him evokes a strong need, one that urges him to fight to live instead of giving up to die....

My thoughts:
"In The Flesh" is a very sexy story, but also an emotional one, which I love. You have two very strong-willed people fighting each other to get their own way, both stubborn, proud, and very attracted to each other.
First you have Wulfric, who is used to always getting his way. Everything in life has come easily to him, so to have this striking, fearless female stand up to him baffles him as much as it entices him. He's torn by his desire, knowing nothing good can come of it. In fact to pursue it would surely mean war between their countries. Yet he cannot think of anything beyond possessing this fiery woman and making her his.
Then there's Sapphire, a woman who's been trained since birth in the sensual arts of a concubine, a rather prestigious role, especially as that of the favored treasure of the king. She reminded me so much of Inara from "Firefly" here, practical about her position, revered and respected, she accepts her fate while not exactly embracing it. For her, she's never known the touch of a lover whose purpose was to please her, so her attraction to her father's enemy stuns her. Why he should be the one to awaken her passion is beyond her comprehension.
Together, these two set each other on fire. It's not long before they both give into the overwhelming desire that doesn't let them think of anything else. What brings them together is lust, but from these earthy feelings grows a stronger, truer bond. Despite their wariness, their distrust, neither can ignore the feelings that develop over time. Because despite their differences, both Sapphire and Wulf begin to recognize the rightness of their union, and see how evenly matched they are to each other.
I won't lie, there is a lot of sex in this book. In fact these two can barely breathe without crawling all over each other. But what makes it so much more interesting is that while they engage in numerous heated, raw, needy bouts of sex, each encounter is tempered with incredible emotion. Usually at this point of the book when the hero and heroine can't keep their hands off each other for the 15th time, I get bored and flip the pages. The scenes become filler at that point. But both Wulf and Sapphire are helpless not just to passion, but to the love that grows so strongly and quickly between them. In that moment when they first saw each other, something happened that changed them both forever, something they cannot walk away from, no matter how hard they try.
What also intrigues me is their future. This was book #1 in the Sapphire trilogy, and while it ends happily, there is this sense that all of that could change, which kinda makes me nervous. Their countries are at war, and the king is not ready to let Sapphire go. I admit that I do worry the direction the story may take. But that's rather premature of me. Right now I'm just very glad I read it, and I'm happy that there are 2 more books in the series.
Rating: ****1/2 out of *****

Labels: Livia Dare, review