Monday, July 13, 2009: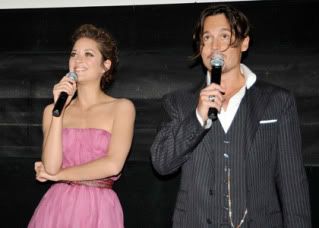 So yes I did go see "
Public Enemies
" Friday night and liked it quite a bit. Totally went in with low expectations because the preview made me yawn, but it was interesting. Afterwards, knowing a lot of things went down in Chicago, including Dillinger's death, I had to Google it and find out more, and wasn't surprised to see that a lot of the movie was embellished in some fashion or another, but the core story was the same. I was disappointed we didn't see more of Chicago, but since that was, what, 75 years ago, I'm sure too much has changed to really depict what the city looked like back then. Dillinger was 31 years old when he died, but living a life of crime definitely aged him. Johnny Depp is much prettier to look at, and definitely very charismatic. (Next to him in this picture is Marion Cotillard, who played Dillinger's girlfriend Billie).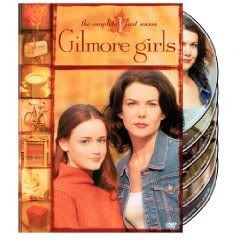 Cute show! Okay it's a little hyper and caffeine-induced, but overall it's got a charming appeal. Both mom and daughter are very pretty and likable, and their house looks cozy and inviting. The townspeople are a little quirky but not in a "Northern Exposure" kind of a way. I always knew I liked Luke - he's so cranky and scruffy and serious, you just want to ruffle his feathers. I know more happens with him and Lorelai later in the series, but I'm pleading ignorant for right now. So far I've only seen 4 episodes out of....150+? I'm totally guessing here, knowing I have 42 DVDs to watch, and there's 7 seasons. And so far I'm really looking forward to each one.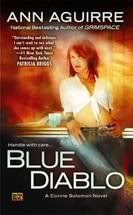 This one took me a long time to read because I just didn't have a lot of leisure time to sit down and enjoy it, and the minute I sat down to read a few pages, my eyes would droop before I opened the book and I wouldn't last too long. But I finished it over the weekend and now, I want MORE! Corrine is a great heroine, built with a combination of strength, loss, courage, honor, and a heart with a strong capacity for love, mixed in with some quirks and flaws that make her a very real person. I truly liked that about her. As for which team I choose, I am now firmly in the Chance camp, though I bet Jesse could give him a good run for his money. It took me awhile to warm up to Chance, but what I discovered is that he is a complex, multilayered hero who isn't easy to read at first, or second, or even the tenth glance. He's not upfront about his feelings, and often acts in direct opposition to what he really wants to do. But when he finally shows little pieces of himself, I knew I had to re-evaluate my original opinion. Chance definitely has potential, and I can't wait to watch him reach it ;)
How about you? Any book, movie, t.v. show I need
to put on my "must" list?
Labels: books, movies, television