Monday, December 29, 2008: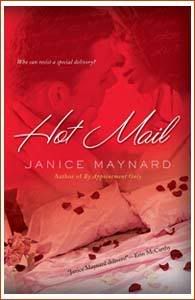 Jane has wanted Ethan for years but has never found a way to tell him. With Valentine's Day fast approaching, she decides to seduce him by sending anonymous erotic valentines every Friday until the big day. Then she'll finally reveal her true feelings— and wildest desires.
But when her stationery store is vandalized, it's Ethan who comes to her rescue—and the sparks start flying way ahead of schedule. Now Jane and her erotic alter ego are competing for Ethan's affections— and the results couldn't be hotter.
At one time, years ago, Ethan and Jane had been good friends who enjoyed each other's company and spent a lot of time hanging out together. However Jane was keeping a secret from her friend - she was deeply in love with him. When he becomes engaged without telling her, Jane's heart is broken knowing that he's chosen another woman over her, and she knows she can no longer be friends with him. Not when he keeps such secrets from her. So as Ethan is distracted by his new fiancee', he doesn't notice when Jane drifts away...
It's now four years later, and Jane's successful store, Paper Pleasures, has been vandalized. As the assistant chief of police and on-duty when the call comes in, Ethan is in charge of the case. Though the two of them have been polite to each other over the years, they've never really talked, not even after Ethan broke off his engagement. He's always regretted letting things with Jane end like they did, and looks at this crime as a mixed blessing: regret that Jane is the victim of vandalism, but also relief that he may get a second chance to make amends. Will Jane let him be a part of her life again?
Janice Maynard
is one of a handful of authors who excel at writing small-town romances that are sweet, sexy and fun. Her characters are the type of people you might actually know in real life, the kind with regular jobs, and similar problems and dreams. Having a heroine you can relate to, or a hero you can imagine as one you'd date adds a special touch to the story. So in "Hot Mail", I liked that though Jane decided to show Ethan a different side of herself by writing sexy poetry geared to intrigue him, but since she did it anonymously, she was counting on the years of friendship between them that would clue Ethan in as to who was writing such naughty verse.
But Ethan's a typical guy, and a police officer to boot, so he approaches the valentines from a totally different place. He's not sure who would write such suggestive poetry with him in mind, and he initially fears it's from a woman with a "Fatal Attraction" complex. Once again, he keeps something significant from Jane, and since she wrote the valentines, she's frustrated by his secrecy, convinced he doesn't care for her the same way she cares for him. Otherwise he wouldn't keep this from her.

I liked that Ethan wasn't thinking he had a back-up plan in the wings if things didn't work out with Jane. I wasn't thrilled that he kept the valentines from her, but I understood that he was trying to protect her, and in his own way, didn't mean to hurt her. Jane was genuinely a nice person, but not a push-over, and she didn't think she could put up with the scraps Ethan was willing to give her, not if he didn't love her in a forever kind of way. She wasn't willing to put her life on hold for a man, and I admired her for that. Despite the risk to her heart, she put herself out there. It couldn't have been easy, but she did it anyway. She was playing for keeps.
This was a sweet love story, and I loved the renewed friendship between Ethan and Jane, and how uncertain Ethan could be when it came to Jane. He was an alpha male out of his element when it came to true love, and it meant he had to stay on his toes when dealing with her. Deep down he's always known Jane is the type of woman you marry, not mess around with, yet he sleeps with her anyway, unable to resist her natural and simple beauty and the way she makes him feel. Once he figures out what she really means to him, he can't believe he missed the signs all along. Men. But he redeems himself wonderfully, and Jane finally gets her man.
There was also a lovely secondary love story involving Ethan's older sister and a fellow police officer that I enjoyed very much. I almost wish they would have had their own story, but I was satisfied by how it played out. In short, "Hot Mail" is the perfect kind of story to read in anticipation of Valenine's Day and all the possibilities that go along with it.
Rating: **** out of *****
Buy it here....

Labels: Janice Maynard, reviews