Tuesday, December 16, 2008: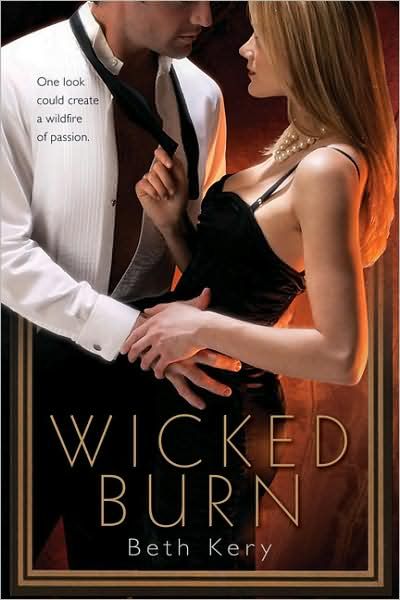 Paperback: 352 pages
Publisher: Berkley Trade (December 2, 2008)
ISBN-10: 0425224376
ISBN-13: 978-0425224373
He wanted all of her…
Vic Savian knows what he wants when he sees it. And what he wants is his sexy neighbor, Niall Chandler. So when he sees her in the hallway of their building being harassed by an aggressive suitor, Vic makes his move—and finds himself greatly rewarded…
And did she ever let him have it…
Sleeping with her gorgeous neighbor—when she didn't even know his last name—was the craziest thing Niall's ever done. Now, she can't seem to get enough of Vic—or the uninhibited passion he stirs in her. Suddenly, with his help, she's opening to sensual pleasures she's never known before. But when Niall's past comes back to haunt her, will she and Vic let themselves venture beyond the bedroom and explore the possibility of love that's in their hearts?
I had not really heard of
Beth Kery
before or this book until I saw a wonderful
review
by RNTV's Marisa, and I just knew I had to read this book. Not only because it's an erotic romance, but because I'm all about books set in Chicago these days. This one fit the bill perfectly.
Niall Chandler is being harassed by an overly friendly date, and she's not welcoming his advances. Hearing the tense exchange, her neighbor Vic Savian steps in and gets rid of the jerk, and in those moments following this episode, the awareness between the two is explosive. Without even knowing each other's last names, the two engage in some incredibly raw and intense sex that leaves them craving more, though both are unwilling to look into the reasons behind this incredible need and are determined to keep their affair no-strings attached. Both have reasons for not pursuing a deeper relationship - they've both been badly hurt in the past and trust is a huge issue for both of them to accept outside the bedroom.
Inevitably though, the longer they carry on their affair, the more attached they become to each other, until one day Vic finds out something about Niall that leaves him reeling, and feeling guilty and defeated at the way Vic finds out, Niall decides it's best not to explain at that time. When she is finally ready to tell him, he decides he's not interested, and refuses to give her the time of day. He can't believe a word she says. But Niall decides she's not going to give up that easily, and forces Vic into a situation where he must see her everyday, and the more time he's around her, the weaker his control becomes. Yet he's determined this time to only indulge in a completely sexual affair with Niall and not let his emotions get involved like he did the last time. But when he finds out the reason Niall kept the truth from him, will he be able to walk away from her?
My thoughts:
This book is one of the most emotionally charged stories I've read in a long time. Couple that with the wildly carnal and extreme sexual connection between Vic and Niall, and you have an explosive and tumultuous love story. The sex scenes are scorching hot right from the start, and each are integral to the growing relationship between Niall and Vic.
While some books turn me off when the characters indulge in their attraction too soon, the sex between Vic and Niall, especially in the beginning, becomes their way of communicating. Both of them have been burned in relationships before, and they both carry the scars close to the surface. Their lovemaking tends to be incredibly primal and elemental, but underneath the carnality of it was a sense of feeling between them that they couldn't acknowledge verbally. Because of their lack of verbal communication, when Vic harshly finds out something significant about Niall, he's thrown into a maestrom of emotion that he doesn't know how to express, and by then it's too late. Niall avoids him when he tries to talk to her, and his anger burns strongly until he no longer cares why she kept the truth from him, only that she did. He's done with her.
Niall has suffered a horrific loss that no woman should have to experience, and yet she's never allowed herself to become a victim to it. She's an intensely private woman who keeps her emotions severely in check, and has only recently begun to open herself up to feeling; at first while she's making love with Vic, and later when she begins to fall in love with him and wants to finally move on. So many times she's wanted to tell him the truth, but she's afraid of what he'll think of her, and whether he'll blame her for the tragedy that happened years ago. Juggling the responsibility she feels she owes her family and the newfound feelings she has for Vic has taken its toll on Niall, but never once does she feel sorry for herself or put the blame on someone else. When she finds the courage to end her old life and begin a new one, she knows she can't give up on Vic without a fight. I admired her strength, her loyalty to her family, her immense courage in the face of her devastating loss.
Like many readers, the "big misunderstanding" is a major sore spot for me. In most instances it's a quick conversation that can end the confusion right then and there. But with Niall's situation, it's just not that easy. The tragedy that she experienced had led to extenuating circumstances, which brought another layer of guilt to her considerable pain, and she's had to make a difficult decision and cut ties in order to truly move on with her life, with or without Vic. It's a decision that her family just doesn't understand, and that makes it all the harder for Niall. But she does it anyway, because it's what she needs to do.
Vic's refusal to listen to Niall means that the truth doesn't completely come from her, not in the beginning. I'm not really a fan of other characters spilling the beans as I think in most cases it takes away from the emotional impact of the story, but in this instance it makes complete sense because Vic discovers the awful truth without feeling like he's being lied to once again, and I also think it gives himself time to prepare to face Niall again, once he realizes what a complete ass he's been to her. Though really, in his defense, his reaction and subsequent behavior are justified based on the limited information he had at the time, and I just couldn't fault him for that.
Beth Kery writes an incredibly moving and sad yet erotic love story that brings two lost and hurt souls together and heals their hearts. It could have been completely jarring to include such heavy subject matter in a romance, but Ms. Kery does a wonderful job of making it all work out. Vic is a virile and passionate man who no longer puts much stock in emotional relationships, and he's totally thrown by his feelings for Niall, which hit him harder than anything he's ever experienced before. Just when he thinks he's gotten over what happened in his past and is ready to move on, he's blindsided by Niall and the secrets she keeps. And Niall is a beautiful, contained woman who's let herself become numb to any feeling, going through the motions but not feeling anything. Her connection to Vic excites her, scares her, and opens her up to living again. Once she gets past the fear, she decides to grab onto her happiness and not let go.
I will definitely be reading more by this author, as I was really impressed by her print debut, and look forward to finding out what else she can come up with.
Rating: ****1/2 out of *****