Tuesday, May 15, 2007: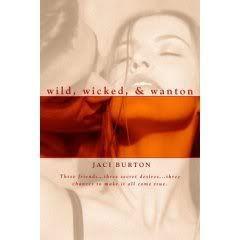 Paperback: 336 pages
Publisher: Berkley Trade; Heat edition (May 1, 2007)
ISBN-10: 0425213838
ISBN-13: 978-0425213834
They're inseparable best friends who delight in sharing their wildest secrets and dares. But their latest bet is the boldest one of all: each must sleep with whomever the other two have chosen for her. And come back with every juicy detail...

WILD
Abby married the town bad boy. And he lived up to his reputation, bedding any woman who let her guard down. She swore off men for good, but never counted on a pair of sexy veterinarians who are fulfilling a desire of their own.

WICKED
Blair is the town heartbreaker. Afraid to commit, she's broken off three engagements. Yet there's one man she never had the courage to bed. The one man she really loved. But now, the decision is out her hands.

WANTON
Callie is the sensible one....but beneath it all she's a true romantic, with the broken heart to prove it. Now her long-dormant fantasies may be getting a workout. A new man enters her life and everything about him is irresistible.
In the deluge of erotica and erotic romance out there, it's been a challenge finding a book that's not just scorchingly sexy, but also romantic. To me, that is the ultimate in a romance novel. Well, I picked this book up on May 1st after seeing some favorable early reviews, and it is one of the best book-buying decisions I've made in quite some time. This was the first book I've ever read by Ms. Burton, and I was very impressed with it. I've added this author to my auto-buy list.
First off, let's set the scene. Bad girl Blair gets the ball rolling when she proposes a dare for herself and her two best friends, Abby and Callie: each of them must experience a weekend of sex with the man the other two women have chosen for them, no matter who it is. As incentive, if anyone backs out, they will have to take the other two on an all-expense paid weekend trip to Vegas. No one wants to lose, so game on.
In "Wild", Abby makes one of her ultimate fantasies - sex with two men - a reality when her two best friends tell her that her assignment is to get down and dirty with sexy veterinarians Mike and Seth. Having worked with the hot pair for the last year, Abby has had her share of hot fantasies about the two doctors, but it isn't until her internship at the clinic is almost over that an opportunity to live out one of her wildest dreams becomes a reality. Both guys want her, and are willing to indulge her in a bit of fantasy fulfillment, no strings attached. Abby jumps at the chance, not realizing that when it's all over, not only will she experience the ultimate in pleasure, she will also lose her heart.
This story was unexpectedly romantic, and I loved it. Abby's focus was on graduating and eventually setting up her own practice, so a relationship was not on her mind, but fulfilling her hottest fantasy was. I liked Abby - she was a bit unsure of herself because of a bad relationship but she also knew what she wanted. I liked that the men she chose were men she'd known awhile, and that she didn't feel guilt or shame about going through with it. I liked that while both Mike and Seth were in it for a good time, they also cared about Abby and made sure she was well taken care of. And I loved the happy ending - it brought tears to my eyes.
Blair has always been in control when it comes to her relationships, and isn't willing to give it up for the only man who's managed to slip past her defenses. But in "Wicked", her best friends choose that man, hot sheriff Rand McKay, as the one she must spend a wonderfully decadent weekend with. Apprehensive at the thought because she knows Rand wants her to submit to both their fantasies, Blair nevertheless charges full-speed ahead, fully intending to win the bet with her control, and heart, intact. But Rand can see into the soul of the woman he loves, and knows that if they have any future together, he must convince her to let go of her hard-earned control and see that letting go and submitting to pleasure isn't the same as giving in and letting him control her. He knows what she needs, and he's playing to win. Forever.
Blair was a tough cookie, which I liked about her, and she called all the shots in her relationships. While not afraid of sex, she wasn't willing to have the kind of sex that would take matters out of her own hands and allowing another person to be in charge of giving her pleasure. Blair was afraid to really let go but deep down that was what she's always really wanted. She thought she could get through the weekend without experiencing that, but Rand loved her, and knew this was the only way to break through the wall she's surrounded herself with so they could be together. Rand was firm with her, but not to the point that he came across as trying to overpower her, which always turns me off in submission stories. I liked that he was emotionally invested in what was happening, that it wasn't all about the sex for him, and that he understood where Blair was coming from when it came to her fears. This story was unexpectedly sweet, and I loved it.
Callie has known love, but lost her beloved husband to cancer years ago. Since then, she's been lonely, and unsure if she'll ever find a man who accepts her and her "Wanton" fantasies. The one man who tempts the lovely Callie is Jack Fellows, a prominent attorney who stops by her shop every morning for coffee, leaving Callie all hot and bothered. Sure, Jack is hot, but certainly not the man for her. However Jack is the man her friends choose for her weekend of debauchery, so Callie lets herself be swept up on Jack's arms, and is delighted that he shares many of the same fantasies she does. See, Callie likes to watch. She also likes the excitement of possibly getting caught while having sex in a public place. Discovering Jack gets turned on by the same things adds a thrilling element to their encounters that Callie has never experienced before, and she loves it. Soon she's falling in love. But will Callie be the woman to share Jack's future?
Callie was so incredibly likeable, and so was Jack. Despite being acquaintances in the beginning, it was easy to believe that they could be so drawn to each other and end up falling in love as quickly as they did. And oh were their sexual adventures blazing hot! I never thought I'd go for the whole voyeur/exhibitionist stuff, but wow, it was downright sexy and fun and titillating. I don't think I'll ever really look at a movie theatre the same way again (and this was way hotter than the image from the Alanis Morrisette song). Thanx Jaci *g*
What I really loved about this anthology is that even though some of the fantasies might not be personal favorites, Jaci has written them in a way that is explicitly sensual and romantic, and it totally works for me. I love that when the characters fell in love, they didn't have to tame it down or be less adventurous, which sometimes happens in erotic romance. I love that these 3 best friends were totally open about their sexuality because yeah, girlfriends really do talk like that in real life. I know me and mine do.
I also liked that the focus was the women's fantasies, and not just typical fantasies where the women cater to the man's needs. I love that these women were fearless about what they wanted, unabashedly so, and enjoyed every single second of their pleasure. Hey, that's what it's all about. This book is a huge turn on, and I read it twice before finally reviewing it cuz I loved it so much. Hot sexy fun. Check out Jaci here for more exciting writing adventures ;)

Labels: Jaci Burton, reviews