Monday, May 07, 2007: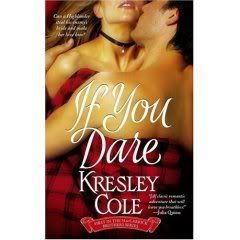 Mass Market Paperback: 384 pages
Publisher: Pocket (March 27, 2007)
ISBN-10: 1416540946
ISBN-13: 978-1416540946
Book One
High in the Pyrenees, a band of mercenaries led by Courtland MacCarrick wages war for General Reynaldo Pascal. When Court turns on the general, Pascal orders him killed. Court narrowly escapes and exacts revenge by kidnapping Pascal's exquisite Castilian fiancée.
Can she deny her passions?
Noble heiress Annalía Tristán Llorente despises her towering, barbaric captor almost as much as she does Pascal. Her inexplicable attraction to the Highlander only fuels her fury. Yet nothing will stop her from returning to Pascal—for if she doesn't wed him, she signs her brother's death warrant, as well as her own.
Can there be love between them?
From the moment Court discovers that Anna's prim façade masks a fiery, brave lass, his heart's ensnared and he dares to defy the curse that has shadowed his life—to walk with death or walk alone. But Pascal vows that he'll hunt the two, never stopping until he's destroyed them both. If they survive, can there be love between a defiant beauty and a ruthless Highland mercenary?
Mercenary Courtland MacCarrick has turned on General Pascal and because of it, is nearly killed by the deadliest of assassins, the Rechazados, yet manages to escape by throwing himself into the raging river below. He's soon rescued by the proud and very ladylike Annalia Llorente, who despises the unconscious Scot on sight but nevertheless nurses him back to health with the desperate hope he'll soon leave Andorra and not bring any trouble to her people. Before too long, Court is awake and restless, anxious to find his men and get back to the tasks of being the mercenary he is and away from the haughty woman who makes his blood boil.
Despite their mutual dislike, Annalia and MacCarrick are reluctantly drawn to each other. Anna cannot help herself; the insufferable Scot is not without intelligence and a bit o' Scottish charm, and is considerably more perceptive than she's comfortable with. He sees her in ways she doesn't want anyone to know, yet both his knowledge of her and his formidable strength over her infuriates her to no end. And Court despises that this hot-blooded beauty would try to use him for her own purpose when he wants her so badly, not realizing the danger he has put her in by not leaving her home.
Their battle of wills comes to a brief halt when Court's men finally arrive, and Anna has no choice but to stand back and watch as Court and his crew take over her home as if it is their right, eating her food, drinking her wine. Angered, she says nothing as she is desperate and realizes she may need their help; she has been summoned by General Pascal to be his bride and to refuse would mean a violent death to her beloved brother Aleix. As much as she absolutely hates the idea of being in MacCarrick's debt, she swallows her pride to ask for his help in saving what's left of her family. Court readily agrees, for a price. However that price is one Anna is unwilling to pay. Knowing she has run out of choices, she goes to meet the General without Court's knowledge, and is escorted by the Rechazados, who take her to his fortress where she is to stay until they are wed.
Too late, Court discovers that Anna's plea for help is genuine, and realizes the danger he's put her in because of his foolish pride. Realizing she has escaped from right under his nose, he sets out to rescue her, and along with his crew, does so successfully, believing that Annalia's brother is already dead. However Anna is not convinced at all, and tries to get away at every opportunity, nearly dying in the process. But because of her rescue, marriage to Pascal will no longer save her brother; Pascal demands satisfaction and has now marked her for death.
It's up to MacCarrick to keep her safe, both from Pascal's men, and from himself and a deadly family curse. Wanting her more than he ever remembers wanting anything, seeing the brave, strong, fiery lass as she truly is, Court knows he is just as dangerous to her and fights to keep his distance.
Annalia is a passionate woman, and after coming to terms with her rescuer and seeing what a noble man he truly is, she wants him just as much. At first confused by her feelings, their time alone together forces her to really see her Scottish mercenary and what has driven him to the life he's chosen. Proud, rough, caring, MacCarrick is the man she longs to be with. Yet Court knows he must stay away from his Anna or risk having her death on his hands, an act he knows deep in his soul he could never live with....

Och, I almost hated Court MacCarrick in the beginning, with his "might makes right" speeches and bullying tactics towards Anna. He taunts her, says the cruelest things to her, takes over her home and refuses to feel guilty about it. But then he has never met a woman like Annalia, doen't know how to respond to her, but feels that pushing her away was the safest thing, at first for his pride, then for his heart. She was as strong and formidable as any enemy, resilient enough to handle his rough, Scottish ways, yet loving, and as loyal as any of his trusted men. Court knows that being with her is wrong, as he is not meant to know love, but love is exactly what he feels for her. He has no choice but to walk away.
I loved Anna and her fearlessness. As much as she's been sheltered her whole life, once Court refused to help her without being "compensated" in return, she wasn't going to sit back and meekly let him control her as he saw fit. At first she fought against him, using her own brand of fighting tactics, then she fought for him, with her body and soon, her heart. Her temper and impulsiveness might come across as a bit spoiled, but I liked it about her because she wasn't acting that way solely for her own pleasure; she's trying to save her brother. She was beautiful but didn't flaunt it; she was rich but didn't make vulgar displays of it. She was a private person, which I can totally relate to, and her unintentional humor amuses Court, which I found to be very sweet. When Court eventually leaves her (with the thought of protecting her), she makes a conscious decision to go on living, to not wallow with her broken heart. But this is a romance, and the top priority of a romance is the HEA, so Court finds it in himself a way to make it right so he can be with the woman he loves. Gotta love that.
I already have the next book in the series (thanx to my pal MaryKate's rec) and am looking forward to another visit with those Highlanders. (Oh, and I don't know about you, but "listening" to Court with his "fascinatin' " Scottish accent easily brings Gerard Butler to mind.....)
Labels: Highlanders, Kresley Cole, trilogy