Monday, April 23, 2007: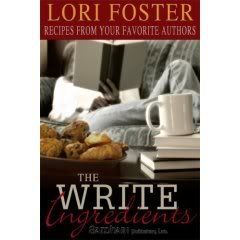 Paperback: 248 pages
Publisher: Samhain Publishing (June 1, 2007)
ISBN-10: 1599986531
ISBN-13: 978-1599986531
Book Description
The Lori Foster Bookjunkys has been hard at work doing a "troop project". Through generous donations and the organizational finesse of Laurie Damron, fun, heartwarming, and sometimes necessary items are bought and shipped to our beloved troops. This cookbook is their way of further contributing to the cause. Over 90 authors, and a handful of dedicated readers, have offered up their favorite recipes for this publication, and all their proceeds will go toward the "troop project".
***Authors Lori Foster and Dianne Castell organized a cookbook with recipes from over 90 of your favorite authors and some from familiar readers and family. The book, titled "THE WRITE INGREDIENTS: Recipes from Your Favorite Authors," will be published by
Samhain
and will be available at the June 2007 event, and online at Lori's site, and at Samhain. To order from Amazon, go
here
, or to order from Samhain, go
here
.***
I'm hoping to get at least two copies, and hopefully will get it signed by as many authors as possible. What a cool thing to do.
Labels: author recipes, Samhain, troops