Monday, October 02, 2006: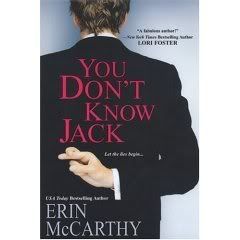 Paperback: 277 pages
Publisher: Brava (October 2006)
Language: English
ISBN: 075821409X
Social worker Jamie Peters is a kind-hearted woman who wants to help those less fortunate get back on their feet, and her agency is in need of additional financing. Despite Jamie's need to help others, she's also a realist when it comes to men, though she also has a bit of a romantic streak. After dating her share of losers, all Jamie decides she wants is some really hot sex. So when her psychic friend predicts that Jamie will meet "the one", and even how it will happen, she's soon overcome with fantasies of orgasms dancing through her head. It must be fate. "The one" will give her what she craves.
Jonathan "Jack" Davidson knows who Jamie is, and fate has nothing to do with it. Instead he's been stalking her, yet when they first meet he pretends not to know her. Jack is a millionaire in charge of investigating financial requests made to the Hathaway Foundation, his family's company, and incidentally happens to be her roommate's brother. Because of some illegal activity, he must keep his identity a secret to avoid blowing his cover. But it's becoming more and more difficult for Jack to lie to Jamie, now that he's beginning to care for her so much. Jamie is everything he's ever wanted in a woman, and he doesn't want to lose her. But he knows that soon she will find out who he is, one way or the other. He just hopes it's later...after she's fallen hopelessly in love with him, and he's taken care of any possible danger.
Erin McCarthy captures readers' attention from the first page and doesn't let you go until the end. I find myself totally engrossed in her stories until the last page, and can't believe how quickly time passes when I'm absorbed in one of her books. What makes this story especially appealing is how hard and how quickly Jack falls for the innocent, lush beauty he's been following. Once he meets her, he knows there is something special about her, and making her happy soon becomes his main priority. Their intense attraction is so exciting because of their romantic affection for each other. And while Jamie may be a bit naive, she's certainly not stupid, and doesn't let Jack off the hook that easily once she discovers the truth. He has to earn her trust, and eventually he does - with actions, not words. Jack realizes Jamie's worth immediately, and wants her to know it. It's one of those stories that makes you sigh with happiness. In fact, I definitely feel a re-read coming on - it's that good.
Okay, I have made no secret of the fact that Erin is one of my favorite authors; like I told her, she owns me. Her books are a wonderful combination of humor and sexual love scenes that have me giggling one minute and catching my breath with that "wow, that was hot!" feeling. This story is no exception.
Jack is a millionaire restless with his life. Sure, he could continue to go on making money, especially since he's so good at it. The thing is, he realizes that those around him are there because of his money, and it really bothers him. Jack is extremely likeable, and when we first meet him, he almost comes across as a bit of a slacker, casually dressed with no real sense of purpose. So a lovable slacker. Not everyone's type, certainly not mine, but that's the thing about Jamie - she doesn't pay attention to stuff like that.
I liked Jamie because she was full of hope, but she was not stupid. She just had more faith in people and their desire to better their circumstances than most people do. Sometimes she's disappointed - she knows there's only a small shot that what she tries to do for people will take, and she is very aware of that. Jamie has been with her share of men who are more than willing to let her take care of them until something else catches their eye.
What Erin creates is a love story for two people who complement each other, but she doesn't make it easy. I was not happy that Jack started out the relationship lying to Jamie, but his reasoning did make a little sense, since he really didn't know all that much about her when he first met her, and didn't know what her reaction would be if she knew the truth: that he was investigating her agency. He had her best interests at heart, and was looking to protect her.
And he was rather distracted himself. Their attraction is instantaneous, and Jack knows right from the beginning what an amazing woman Jamie is, and is soon falling in love with her. Finally a man has seen past the superficial and noticed the gorgeous woman Jamie was, inside and out.
If you've ever read a story by Erin McCarthy, then you know she writes amazingly hot and sensual love scenes. Her descriptions make me feel like I'm in the middle of a succulent banquet of the senses, filled with lush images and earthy passages that capture the imagination. Jack has a real appreciation for Jamie's generous curves, and doesn't hesitate to worship her body in the most intimate of ways. Jamie is getting that hot sex she's been craving, and she's also losing her heart. When Jack breaks it, I couldn't help but feel her pain. She won't let him do that to her again.
Erin satisfies this reader by redeeming Jack and bringing him back together with Jamie.
Also, Erin peppers this story with several intriguing secondary stories, only to discover that the HEAs for Allison and Caroline are indefinitely on hold - say it isn't so! But right from the start, Erin has admitted that she's not sure when these two characters will get their own book, if at all. Maybe if her readers made a combined effort of begging, that will change...we can always hope.
Anywayz, pick up your copy of "You Don't Know Jack" today because not much beats a Brava, especially one written by Erin McCarthy.