Thursday, September 30, 2010: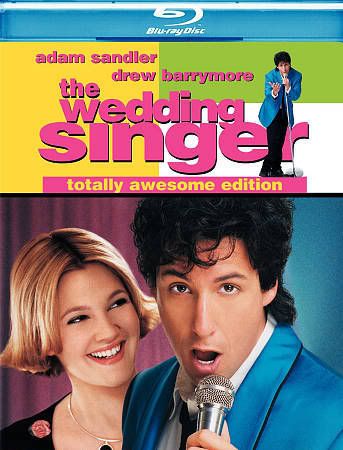 From BooksaMillion
:
New Jersey wedding chanteur Robbie Hart loses all hope after being abandoned at the altar by his fiancee Linda. Enter Julia, an effervescent ray of light in the shape of a catering-service waitress, who enlists Robbie's help in planning her own wedding--to a sleazy, DeLorean-driving junk bond salesman who tomcats around and treats women like unfeeling slabs of meat. Can our hero win Julia over before she elopes to Las Vegas? Will Billy Idol save the day? And, most importantly, will the fluffy romantic storyline be completely overpowered by the weighty mid-1980s cultural references? THE WEDDING SINGER is cheesy fun for the nostalgically inclined. Steve Buscemi tries to steal the film in an uncredited role as a drunk best man, but that honor actually goes to Alexis Arquette, as "George."
This movie came out in early 1998, and being a product of the 80's and a fan of Drew Barrymore, I just had to see it. I shouldn't embarrass myself and say how many times I went to see it in the theatre (3) because I developed this weird and totally unexpected crush on Adam Sandler, or rather Adam Sandler as Robbie Hart, which had me a little obsessed with the movie. He and Drew have such chemistry in this movie, and they are both just regular people, so sweet together. It had all that angsty feelings of my later teen years and the music only brought those feelings rushing back to the surface.
It's not a perfect movie, having a few cringe-worthy moments, but most of it was pure awesome to me. I especially loved the song Robbie sang to Julia on the plane - "I Wanna Grow Old With You" - which has now been downloaded onto my phone. It makes me smile. There's "church tongue". And "Have You Written Anything Lately?" And let's not forget Billy Idol. So of course when it was released, I had to buy my very own copy. In fact, I think a "Wedding Singer" evening is on the agenda in the near future....
What are some of your favorite movies from that era?
Labels: Adam Sandler, movies