Wednesday, June 09, 2010:
Now more riveting tales from this exciting blogger.... *g*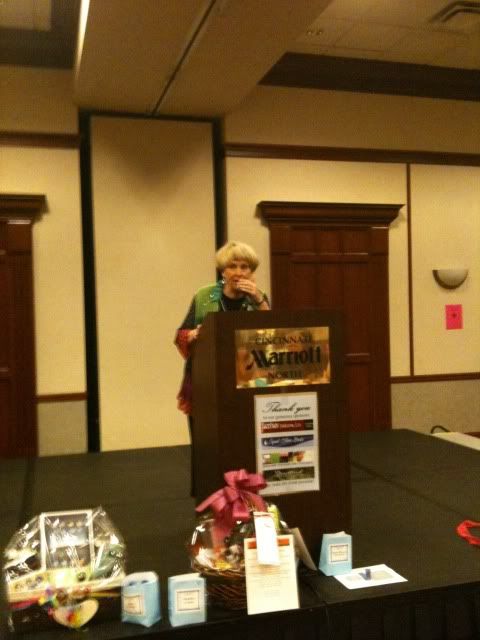 Co-coordinator Dianne Castell in a rare moment of standing still

Saturday morning started around 8:30am with a Continental breakfast. Already people were up and about, absorbing all there was to see. There were a lot of events going on at once - workshops, interviews, etc. - so it was a bit difficult to track people down at times. But that gave me time to chat with the people at my table, so I won't complain. I love how after all these years, we can see each other so briefly yet feel so comfortable around each other.
* One thing I may have forgotten to mention is that the incredibly awesome Community Relations Manager & all around miracle worker Linda Keller is retiring from B&N, however she assured us she would still be attending the event in the future. For those of you who don't know Linda, she is amazing, funny, and such a huge help during this event. I know B&N will miss her. *

Basket #1: Chloe Neill's Chicagoland vampires

The first raffle was at 10am, and Beth had to figure out a way to hand out about 70 prizes in 30 minutes. It took some creative planning and a few extra helpers, but she came up with a great idea that worked really well which reduced all the running around.
I personally brought 2 baskets, both with a Chicago theme (I did that last year too). This year I had a Chloe Neill basket, with the first 2 books - signed - in her Chicagoland Vampires series, some Fannie May chocolates, and a bottle of lotion from Bath & Body Works. I also had a Simone Elkeles basket, with signed copies of Perfect Chemistry & Rules of Attraction, also Fannie May chocolate and lotion. My baskets may not generate a ton of tickets, but I love giving them away, so it's always fun for me :) And my friend Lisa won Chloe's basket, which I hope she enjoys.
Basket #2: Chicago author Simone Elkeles' basket


Next up was lunch, and as I was standing in line, Wendi Zwaduk asked me if I would mind reviewing her book. Of course I said no, but of course I was just kidding. (If you know Wendi you'd know why I responded the way I did. She's funny & fearless). And see, the thing is, it might sound stupid, but I'm always shocked when people know who I am. I love my blog, but let's face it, I will never be a Smexy or a Katiebabs. I'm just me, so when people know me, I am thrown by it. I like my little corner of the world, and it's sweet to find out other people do too :)

My blog "fan", Mary G! What a sweetheart :)
(Shout out to another Canadian & cool blogger Lea!)
After lunch, I took some of this opportunity to harass, um, ask authors for pictures and autographs for my pretty books. There was HelenKay Dimon (LOVE her!), Larissa Ione (she totally ROCKS!), Ann Christopher, Stephanie Julian (I won her cool basket), my pal Beth Kery who I always love to see, Kay Stockham, Toni Blake, LuAnn McLane, Morgan Malone, Patricia Sergeant, Janice Maynard, Jules Bennett, Erin McCarthy (ADORE her), Dianne Castell...and of course the object of my (terrible) stalking, Shiloh Walker.

My good friend, Chicago author Beth Kery


Stephanie Julian

One of the raffle baskets I won was Stephanie Julian's, which included a book (Shadow Magic) and the makings for peach Bellinis. I LOVE peach Bellinis! So yeah, I was happy to have won her basket and to get the chance to meet her :)
HelenKay Dimon, an author full of AWESOME
You know you can "meet" an author and chat with them online, but it isn't until you meet them in person that you discover how totally fabulous they are. HelenKay totally fits that description. I thought I liked her before, but now I am an even bigger fan. Funny as hell, charming, generous, oh I could go on and on (and hey, she actually knows me LOL).
Darling Deb, a dear, dear friend :)
Deb is one of the ladies I hung out with on Thursday evening at dinner. She's got the sweetest accent, and is just precious. Always a joy spending time with her :) This year I met her friend Liane Gentry Skye, who was also very sweet.
One of my all-time favorite people EVER, Erin McCarthy
And I'll end part 2 with one of the most fabulous people out there. Erin is just the coolest. Poised and a bit wild, completely sincere and so interesting, Erin is just so easy to love. I really enjoy listening to her talk about books and share her writing experiences. I will always, always, always be a huge fan of hers, even if she were to ever stop writing. (Though she better not!) She's just that kind of person. Love her to death. Didn't get to spend too much time with her, but I got a few precious minutes of chat time near the end. Definitely a highlight from this weekend :)
*****
Stay tuned for the last of my pictures, hopefully to be posted later today....
Labels: reader/author get-together