Friday, May 28, 2010: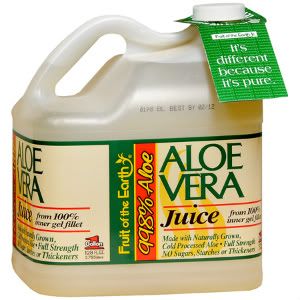 I'm not big on taking pills or supplements of any kind. First off, I have this weird gag reflex when it comes to taking them. I could swallow a piece of chocolate or inhale a cheeseburger, but when it comes to a tiny pill, I'm grossed out. I think it's because a lot of them taste so horrible.
Right now, since it's summer, I tend to eat healthier. A lot more fruits & veggies. I tend to drink more water. I put less cream & sugar in my coffee. Some exercise. I also started taking a multivitamin and one for Iron because I am borderline anemic. That's about all I can tolerate. Oh, and the multivitamin is for adults, but it's chewable, orange-flavored, so I actually like taking that one. And the Iron pill is tiny, thank God.
But one of my bosses was telling me yesterday she takes some vitamins and some supplements that I've not heard of. One is biotin, for hair and nails. The other is aloe vera juice, which is supposed to be very healing. All these healthy supplements have me scratching my head. All I know is that she is a gorgeous 47-year-old African American woman and I wish I looked half as good as she does. [Note: the reason I mention her race is because she told me a story where she recently had to cut her hair, and I never knew about it before yesterday. I always picture her as this extremely well-put together woman with a hairstyle that suited her pretty face - she looks fabulous with super short hair. But her story was a bit of an emotional one and it really made me appreciate what it took for her to get where she is today].
Do you take any of these or other vitamins/supplements?
What are the benefits of them, and have you noticed results?
Labels: healthcare