Monday, May 24, 2010: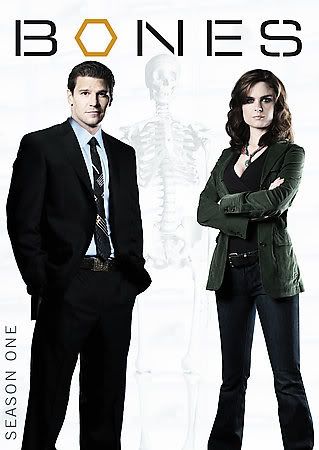 From
Booksamillion.com
:

The television series BONES is a crime drama that mixes elements of forensic science, romance, and comedy to excellent effect. Centered on the relationship between forensic anthropologist Temperance Brennan (played by Emily Deschenel) and FBI special agent Seely Booth (played by David Boreanaz), BONES is a hard-hitting, action-packed show marked by fine writing, acting, and direction. The episodes of the first season are collected here on DVD.
I added this show to my "to watch" list before David Boreanaz became a rat bastard, but even still, I just decided to let that go and focus on the show, see what I got out of it. Quite a lot, actually.
Right from the start, it's pretty gruesome, what with a car explosion in the first episode and beetles eating away the burnt flesh to get to the bones. I'm not the most squeamish, but I also have my weaknesses, so that was not at all pretty. But the characters of the show definitely make it interesting. So far, after watching 16(?) episodes, I've found something to enjoy about each of them, and I think it's a really great cast with a lot of chemistry. I like how we've seen Booth & Bones slowly become more comfortable around each other, more flirtatious. I think Bones (Emily Deschanel) especially is a fascinating character because she's ridiculously smart, and extremely capable of handling herself in just about any situation, but she seriously is lacking with the people skills. It's often painful but also amusing, because she generally doesn't realize that she pretty much exists on a different plain than most people, and she has a difficult time connecting. Booth however calls her on it, and gives her crap, which is something she's probably not used to.
I love that we have a variety of other personalities on the show as well, most with different backgrounds and abilities. Some are well-adjusted, but most of them have some issues with what they do for a living. It's having to separate yourself from the reality of gruesome and horrible death to find the cause and/or the murderer.
And helllooo there, Jack. Well, I didn't take too much notice of him until he took his shirt off, and then whoa. Niiiice. He's a total smart ass, which I love, and a bit of a conspiracy freak.
So yeah, so far I'm lovin' it. Season 1 is almost over and I'm tempted to put the reason of the seasons in my queue, but I will hold off...for now. But if the rest are anything like season 1, they will be worth the wait :)
Do you watch Bones?
Have a favorite season? (no spoilers please!)
Labels: television