Tuesday, June 08, 2010:
Lori Foster & me

Well it's come and gone, the 6th annual Lori Foster/Dianne Castell Get Together. It goes by so fast! And I'm still a little sad to not be there, right in the middle of all the fun again.
I drove down on Thursday in record time. Instead of driving like a mad demon, I was calm, just went with the flow (though I did clock 100 at one point). After settling in, I met with Barb, Deb, Liane Gentry Skye, Sabra, Joni, Nina Pierce & Pam Champagne for a lovely dinner at PF Chang's. The company was wonderful, and it was so relaxing to get down there early and just hang out.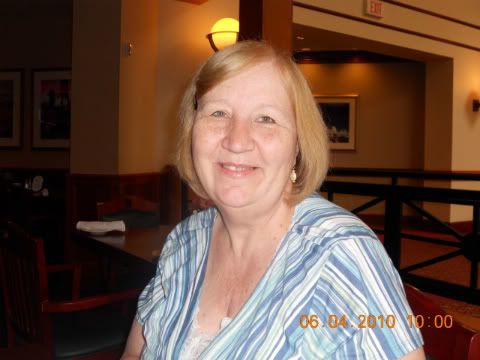 Lovely & interesting Barbara Vey
Friday morning I had met Barbara for breakfast, and we decided to just meet at the hotel restaurant since I had to meet someone at 10:30, and as we were bein seated, a lady sitting down asked if we were with the get together and invited us to join her. It was Barbara Vey. And what an interesting person she is! I had a ball listening to her tell us stories and her incredible love of books. She's just great, with her midwest charm and open heart. Loved chatting with her.
Then as the morning progressed, we started helping out here and there. One of the plans for this weekend was to through a surprise wedding shower for Beth, aka LadyB, who is the coordinator and MC for the basket raffles. She'd gotten married a few weeks earlier, and those of us who have known Beth a long time wanted to celebrate because, well, we love her and wanted to show how happy we were for her. So a few of us went to lunch with her when she showed up, distracting her with raffle talk, and managed to get her to the designated spot on time. Unfortunately I missed her initial reaction, but from what I'd heard, she was very surprised :) It was a success. For those who know Beth, I'm sure we all agree that no one deserves it more. She is one of those special people you meet and are immediately glad for it. She is definitely one of my dearest friends, even if I only see her once a year.
Raffle basket princesses: newly married Beth, Marcie & Kaleen
Then it was back to the event. One of the things I helped with was the basket raffle, which is a huge undertaking, I mean HUGE. There were over 139 baskets, and it may not seem like that big of a deal. Beth has a very organized system with bags and labels, but even that sometimes isn't enough to keep it all straight as people tend not to let the commitee know they brought baskets or didn't label their baskets or did so under a different name than the one they provided. But with the help of several people, we managed to figure it all out. And this year some of the baskets included a Nook and an iPad (the latter from the always generous Sarah McCarty).
Hanging out at the raffle check-in table, I of course was scouring the crowd for a few people I really wanted to meet. One of them was Limecello (I got a picture!), a pal from Twitter who just cracks me up. Lime decided at the last minute to attend, which I was excited about. She's very sarcastic, which I love, and I had no idea what to expect when I met her. Would she be in bright green? I had no clue. It wasn't until sitting down for the pizza dinner that I realized she was sitting across from me (the name tags were hard to read) but damn it, did she have to be so adorable? Have to hate her a little bit for that :D I didn't get to chat with her too much, but meeting the famous Lime was definitely a cool and memorable experience.
J.A. Saare - LOVE her!!!
(Oh and look, Shiloh is in the background....)

The other one was definitely meeting Jaime A. Saare! She's as cute as a button and sweet as can be with that Alabama accent :) Definitely one of my favorite moments from the weekend. (More on that later). I also met her friend, author Madelyn Ford, and a friend of Madelyn's, Kris. These ladies were AWESOME. I could have hung out with them for days. And Jaime's husband was such a sport to put up with us and our book talk LOL.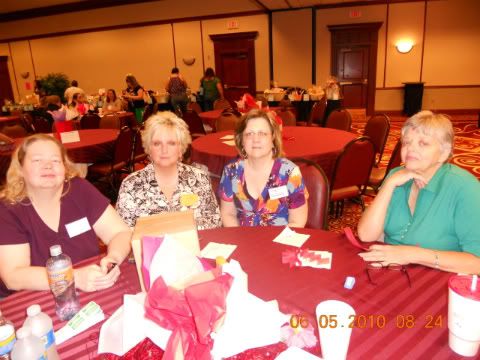 Barbara, Laurie, Judy, Carolyn
But probably my favorite experience was just getting to sit with my long-time Yahoo Group pals: Laurie, Judy, Barb, Lisa, Niny, Deb, Carolyn, Beth, Kaleen, and Marcie. I've known most of these ladies since I joined Lori's group,what like 10 years ago? And I love them dearly. I will forever be grateful and proud to have friends who love books as much as I do, and they are some of the most encouraging, funny, crazy but in a good way pals I could ever hope to have.
Stay tuned for part 2, and more pictures....
Labels: friends, reader/author get-together