Wednesday, June 02, 2010:
Taken right from Kate's blog:
Now Available from Ravenous Romance for $4.99
Click Here to Purchase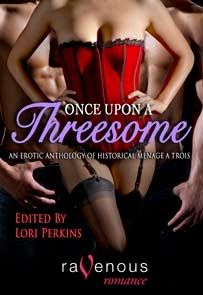 Anthology Synopsis: Historical threesomes - who imagined how hot this subject could be? In this delightfully wicked anthology, you'll find threesomes of all types from a range of historical time periods and settings. Hot M/F/M cowboy menage? It's here. Wild M/M/M medieval threesome? Check. From hot vintage Hollywood to a triple lesbian story right out of "Mad Men," Once Upon a Threesome has a story for everyone.

KT Grant's story: The Gentleman's Loving Spy

Excerpt: "Two naked men frolicked in the lake as Mrs. Abigail Barlow, the vicar's twenty-eight year-old widowed daughter, watched with delight. She wasn't as shocked as she thought she would be..."
****
I'm taking this opportunity to give a huge shout-out to one of the most generous, friendly, silly, perverted and caring individuals I've ever gotten the chance to meet online. Kate, affectionately known as Katiebabs, has always been the type of person who makes everyone feel welcome to the party. She's passionate about Richard Armitage, smutty books, and her devotion to her partner in crime (who just happens to be a well-hung sheep), King Mho Fho. And now, our Kate has become a published author! Woo hoo to Kate! Dreams really do come true :)
And I don't know about you, but I'm dying to read this naughty threesomes story ;)
Labels: Katiebabs