Friday, February 12, 2010: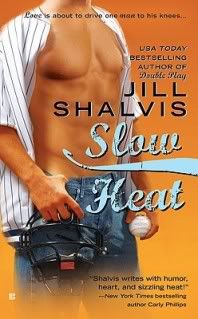 These two books are some of Jill Shalvis' best work, as far as I'm concerned. I really liked both of them, and thought hey, I bet you would too. So I am having a contest for one random winner to get a copy of BOTH books. Believe me, if you've never read a Shalvis book, now is your chance, because they are awesome. Baseball, sexy men, likeable & smart heroines, sexy men, humor, emotion and oh yeah, SEXY men.
Contest ends Monday, February 15th, at 2pm CST.
In order to be entered into the drawing, you must answer at least 2 of the following questions:


What is your favorite sports movie?



What is your favorite sports team?



What sport do you/did you play?



If you could play any sport, what would it be?



Have you ever met a sports figure and if so, who?



Who is your favorite or who do you think is the cutest sports figure?



Do sports figures make too much money?
One entry per person, so answering more questions will not increase the number of chances. So please, just choose the questions you want to answer and have fun with it. GOOD LUCK!

Labels: contest, Jill Shalvis