Wednesday, February 03, 2010: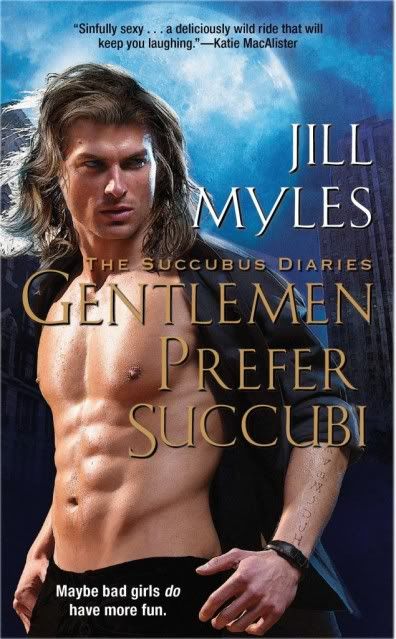 Who knew an angel could get a girl in so much devilish trouble?
Jackie Brighton woke up in a dumpster this morning, and her day has only gotten weirder. Her breasts grew overnight, her sex drive is insatiable, and apparently she had her first one-night stand ever . . . with a fallen angel.
Of course, she only remembers gorgeous Noah's enormous, er, package. And their steamy shower sex. Hmm . . . and the dark stranger whose bite transformed her into an immortal siren with a seductive Itch.

With help from Noah and fellow succubus Remy Summore, Jackie adapts to her new lifestyle—until she accidentally strikes a deal that sends her lover into the deadly clutches of the vampire queen and lands Jackie, Remy, and the queen's wickedly hot right-hand man into the middle of a fierce battle for an ancient halo.

But how's a girl supposed to save the world when the enemy's so hard to resist?




Doesn't this book sound hot? I sure thought so, which was just one of the reasons I bought it. It sounded like one hell of a good time, and certainly appropriately naughty. But it also sounded fun, plus I haven't read many stories about Succubi, so I figured that was another good reason to pick this one up. With this being the first book in the Succubus Diaries, I was excited to see what kind of an imagination Jill Myles had.

The story started out very promising. Our unlikely heroine, Jackie Brighton, had just woken up in a dumpster, and didn't have any memory as to how she got there. Finding her way out of the filthy alley, she encounters the unbelievably gorgeous Noah, who seems a little familiar, and because she cannot recall the details of the last few days, she lets him buy her lunch, even though all she can think about is screwing his brains out. But first she needs to know what happened to her, and Noah seems to be the one with all the answers. And whoa, does he have some explaining to do.....

My thoughts:

I'm definitely on the fence here because while I found many elements of the story fun and interesting and wonderfully mixed with real ancient history, I had such a difficult time liking the heroine. Simply put, Jackie was mostly annoying and straddling the line of the TSTL heroine. Admittedly, she got a little more tolerable as the story came to a close, but there were so many instances where I wanted to smack her and tell her to shut the hell up. Just why these two incredibly delicious and sexy guys would want anything to do with such a hot mess is beyond me. Despite her career as a docent at the museum, she doesn't come across as very bright. Or discriminating. She seems pretty keen to believe just about anything anyone tells her, and doesn't listen to the advice of those trying to help her adjust to her new life as a Succubus. One minute she'd be pissed at Zane, and the next she'd be crawling all over him. Granted, part of her wishy-washy behavior was because of her sexual Itch, but it got tiresome after awhile.

Beyond that though, I thoroughly enjoyed the rest of the story. I thought both Noah and Zane were to die for, and though I'm on a team already, I'm willing to explore all options. I found the vampire queen to be appropriately evil, and Uriel to be a sneaky bastard of an angel. Remy totally cracked me up. Now her I could see as the heroine. She may be vain and have a completely raunchy career, but she was way more interesting to me. Personally, I thought Jackie was all boobs and didn't deserve to have Noah and Zane panting after her. If she was smart or resourceful or brave, I might have had more respect for her. So instead I focused on other aspects of the story to keep me entertained.

For example, I was fascinated by the fact that Noah was a Serim, the golden boy, and Zane was a vampire, the tall, dark and sexy bad boy. In a sense they remind me of Angel and Spike, especially the trench coat-wearing, smoking Zane. Their powers and their needs were so different, and I enjoyed the mythology of their two worlds and how the two clashed. It's always fun to note that the good guys aren't always so good, and the bad guys can do heroic things.

Yet despite my lack of respect for the heroine, I am someone who tends to keep giving chances. I am feeling horribly guilty for not liking Jackie very much, and yes, that's my issue, because I just can't seem to help myself from feeling bad. Besides, I already have the 2nd book in this series, so I haven't written off the books completely. I just know now to go in with lowered expectations to prevent me from getting too crazed. I think the series has a lot of potential and want to explore more of this interesting world Ms. Myles has created for us. And I'm not afraid to be proven wrong. If there's some way I can learn to love Jackie, then I'm all for it, because I really want more Noah & Zane, however I can get them ;)




Rating: **** out of *****







How do you cope with TSTL syndrome?

Labels: Jill Myles, quickie reviews