Monday, December 14, 2009: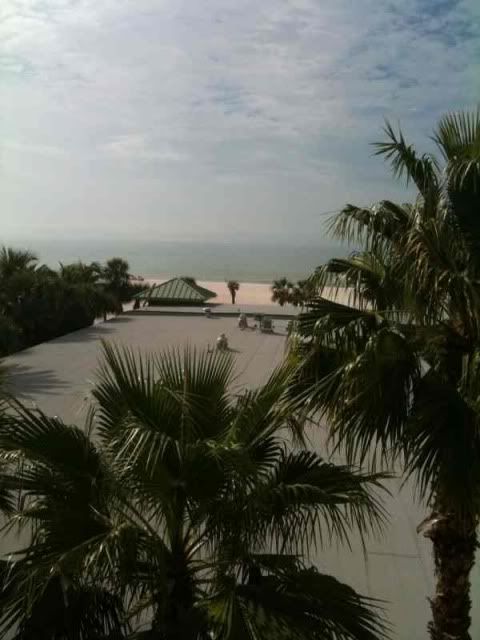 As some of you know, I just got back from a business trip to Tampa/St. Pete's. It was wonderful to get away from the midwest winter and just enjoy some decent weather in the middle of December.
[This picture here is the view from my room. Not exactly on the beach, but very, very close].
One thing I've noticed as I've gotten older as I seem to be getting more claustrophobic. On the way down to Tampa it wasn't bad because I was sitting in an aisle seat, but coming back, I was in the window seat and I couldn't sit still. I wanted off the plane. I think I'm going to need to start taking something to put me to sleep so I don't have to worry about this in the future.
I was traveling with coworkers so that made it much more fun than going by myself. Not being an especially social person, I find it hard to just strike up a conversation with the person sitting next to me. But going with people was awesome. We had a great time :)


We tried to go out every night, though the first night we were wiped out. One evening we went to Patrick's Bayside Grill, where we all had incredible steaks. We sat outside and enjoyed the mild weather. The food was excellent, the service very attentive, but it took forever to get our food. That was the only drawback. Other than that, we relaxed and just felt glad to be somewhere warm for a change.
I'm not a huge ice cream eater, but one stop we had to make was to this location, which I guess has been on the Food Network. Funny how we were the only ones there so early on a warm night. So that meant no waiting. I actually didn't have any ice cream, but the choices sounded pretty amazing. I almost regret it. Almost. But I knew that being so full from dinner I wouldn't have enjoyed it anyway.
Another memorable place we went to, after we lounged in the hot tub for awhile, was a place called Mad Fish. The dinner was wonderful, but we really stopped to try the fried Twinkies and fried Snickers. Oh, yum! Definitely worth the experience. I loved fried foods (and it shows) so it was awesome that these questionable delicacies were just as outstanding as we'd hoped.
For extra dessert, we had to have chocolate martinis, made especially by Linda at the Sirata Hotel. We thank her for the wonderful drinks and the company. It was a great trip all the way around.
And yes, I actually did learn something while I was there, but the memorable moments were the conversation, food and drinks, not to mention that wonderful hot tub.
When you travel do you like to hit the hot spots?
What are some of your most memorable moments - dining, etc?

Labels: travel