Thursday, December 10, 2009: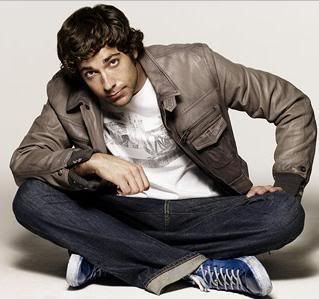 Zachary Levi from "Chuck", who happens to be a really nice guy
Nice guys are great, aren't they? Now I'm not talking about the ones that let you walk all over them. Sure they're nice, but there's such a thing as too nice. I'm talking about the ones that are genuinely decent guys, who like to goof around and hang out with you and just be a good friend. I know a lot of nice guys (sadly, the good ones really are taken) and as I've gotten older I'm really starting to appreciate them.
Like when they do hold the door open for you. I love this. I'm a very independent person and I don't get hung up on that whole feminist thing, because when someone does something nice for me like that, I'm going to appreciate it instead of looking at it as men trying to take my right to open my own door away from me. I have a friend like this. She looks at this as a bad thing. I think she's crazy, because she's missing the whole point, in my opinion. I think someone holding the door open for you is a considerate gesture, one of respect, not of someone trying to make me feel inferior. Sometimes women are plain crazy.
But. I digress. We're talking nice guys here. The ones who love their kids and buy you coffee and appreciate a good joke. The ones who surprise their wives on their birthday with a special gift, the ones who unabashedly love their dog, the ones who blush a little when you give them a compliment. The ones that are protective, the ones that appreciate you're a woman without being pigs, and the ones who have lots of friends because they are such nice guys.
I'm celebrating the nice guy today because I am lucky enough to know several, and think they are some of the greatest people around. In some cases, I envy their wives and girlfriends LOL. In others, I'm just glad they're a part of my day. So let's hear it for the nice guys, and all the reasons we love them.
Do you know a nice guy or two?
What's so great about them?
Would you or have you dated a nice guy?
Labels: hottie