Monday, November 30, 2009: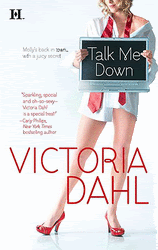 Molly Jenkins has one naughty little secret: her job as a bestselling erotic fiction author. Until her inspiration runs dry--thanks to a creepy ex--and it's time to skip town and move back to tiny Tumble Creek, Colorado.

One look at former high school hunk chief of police Ben Lawson and Molly is back in business. The town gossip is buzzing at her door and, worse still, a stalker seems to be watching her every move. Thankfully, her very own lawman has taken to coming over, often. The only problem now is that Molly may have to let the cat out of the bag about her chosen profession, and straitlaced Ben will definitely not approve....
I had heard about author Victoria Dahl awhile ago. I think it might have been when Katiebabs talked about one of her books on KristieJ's blog. But it wasn't until a Twitter conversation about the hot and dirty contemporaries that Ms. Dahl wrote, as well as her own tweets, that finally got me to give them a try. And I devoured both contemps over the Thanksgiving weekend.
Overall I rather liked "Talk Me Down". It was sexy, and fun, and I couldn't turn the pages quick enough. I did waver between wanting to smack Molly upside the head and wanting to be her friend though. She has a tendency to be pretty immature, but she's got a vivacious personality that made it difficult to hate her. Still, there are times when she has a big mouth, and for a private guy like Ben, it bothers me to see her acting so cavalier about certain things.
And keeping her profession, as that of an erotica writer, a secret even from her family, was a bit extreme. I think what bothered me most about it is that she KNOWS how much Ben hates secrets, and why, yet she keeps it from him anyway. True, he's fully aware of that fact she has this secret, but trust is so important to him, and while she was only looking for something casual, Ben was not. Perhaps that's a double standard, because what if the reverse were true? Would I be as upset with Ben if he had this huge secret? Now that I think about it, yes I would.
Another thing that bothered me was the whole stalker issue. I thought it was enough to have this secret between them instead of throwing another subplot to take away from the relationship. It would even have been okay if it had been toned down a bit, but I just didn't think it was necessary to take it to such a level as it went to. And the Cameron thing squicked me out, right from the beginning. I admit I flipped through these pages because I just wanted to get past them.
But by the end of the book, everything worked out, so that's the main thing, right? I think Molly grew up enough to be more worthy of Ben, though she still had a ways to go. But I believe she was willing to try to be the kind of woman Ben deserved, because he was pretty special.
Rating: *** 1/2 out of *****


Lori had always planned to get out of tiny Tumble Creek, Colorado, but when her late dad left her his beloved auto body shop, she'd stayed. Now, according to her crazy best friend, Molly, what Lori needs is some excitement, in the form of hot, no-strings-attached sex...and lots of it.

Quinn Jennings has buildings on the brain--not love and romance. A serious architect, he's delighted to discover that Lori is willing to skip dating protocols and head straight for the sheets. And aided by the steamy books on Lori's bedside table, he's busy indulging both of their wildest fantasies. But when life in Tumble Creek takes a dangerous turn for Lori, Quinn's protective instincts kick in.

Suddenly he "cares." More than either of them ever expected....
I liked this one quite a bit more than the first book. Lori wasn't always the nicest heroine, a fact she herself will admit to, but that's okay. She's had a difficult time of it the last ten years but she faced up to her responsibilities, even though it's not the life she would have chosen for herself. But Lori is a healthy young woman with raging hormones, and she just ain't finding ways to satisfy her needs in Tumble Creek. Heck, most of the town believes she's a lesbian, and even if they didn't, there aren't many desirable men to choose from.
With the help of her friend Molly, Lori decides it's time to occasionally go out and just have fun being a woman. During a girls' night out, they run into Molly's brother Quinn, who can't take his eyes off Lori. He's stunned to discover under the overalls and grease is a very sexy, attractive woman, one he wants to spend more time with. At first Lori isn't too crazy about the idea, even though Quinn pushes all the right buttons. But she's known him all her life and she cannot imagine living out her dirty fantasies with a friend. However there's just no other man who will do, and soon, Quinn and Lori are hittin' the sheets and discovering how down and dirty friends can get...
These book was incredibly sexy. The fact that Lori wasn't afraid to explore some of her most naughty fantasies and that Quinn was more than willing to take her there was incredibly hot. I liked that he didn't think she was a freak or a nymphomaniac just because she wanted to do things "nice" girls aren't supposed to want to do. In fact the guy counts his lucky stars that she trusts him enough to share her desires in the bedroom, and he's more than willing to satisfy each and every one of them.
But Quinn begins to develop stronger feelings for her, and because he cares, he believes he knows what's best for Lori, so he pushes her to change some of the things about her life. And because of fear and indignation that he assumes he has the right, Lori pushes him away.
On top of her issues with Quinn, she has to deal with someone trying to destroy her business. This is what keeps the book from being perfect for me; when we discover the motivation and who the actual culprit is. Without giving it away or going into detail, I was soooo disappointed in how this scenario ended. It's not that I didn't see it coming, I just wish it had ended much differently. In fact I prayed that what happened wouldn't happen. Sadly, it did. But it didn't run the book completely for me, because there was a lot of stuff I liked too much about it.
The ending is rather romantic, though not in a traditional sense. I liked that Lori and Quinn were taking it slow. It was unexpectedly sweet, actually. And very fitting for the relationship they'd been having. I highly approve.
Rating: ****1/2 out of *****
Labels: quickie reviews, Victoria Dahl