Thursday, November 19, 2009:
Simon Quinn can have any woman he wants, but he prefers them jaded, worldly, and free of illusions. His life is one of danger and temporary pleasures. An Irish commoner, he has nothing more than his expertise as a lover and mercenary to recommend him and no title, property, or family to redeem him.
Lysette Rousseau is a deadly beauty who can seduce or betray with equal skill. She should be just the sort of woman Simon entertains, but something about her sets him on edge. At times she is a femme fatale he cannot abide, at others she is warm, sweet, and irresistibly alluring. His reactions to both sides of her are equally powerful, but for opposite reasons. It seems almost as if there are two women in one...

TWINS!
...one wounded and exploited, the other innocent but strong. Lynette Rousseau will do anything to reclaim the sister who doesn't remember her. She will gain the proficiency required to enter the underworld her sibling occupies. But how will she defend herself against the enigmatic, seductive Simon Quinn? A man who can liberate Lysette, but whose insatiable desires may ensnare Lynette forever...
I am a long-time fan of Sylvia Day, have been way before her Marked series came out, and this one is another of her wonderful historicals. This one is a continuation of her Georgian series, this being book #4, and probably my 2nd favorite out of the series.
What I liked:
Simon. He was a wonderful hero, protective of the heroine, yet not so perfect he was boring. He was a gorgeous Irish gangsta in a sense, and while he disliked Lysette, his feelings for Lynette were completely different. Their attraction is explosive, and they have a fabulously hot night of lovin' together where Simon treated her right for her first time.
Lysette and Mr. James. As much as I enjoyed their interactions, this was a relationship I would have liked to see develop further. Lysette had been abused in her past and recently survives a horrible fire, and Mr. James is a gruff, ordinary man who develops a reluctant passion for her.
The intrigue. Spies, and secrets and vendettas. I love that stuff. Flushing out the villain and facing dangers from long ago. Starr-crossed lovers. It's all good.
What I didn't like:


Too quick of a read. This book seemed to be so much shorter than previous installments, and I felt like there were things missing. Almost like the Cliffs' Notes version in a sense. Plus, like most readers, I don't like it when the main characters spend so much time apart. They only know each other briefly. I would have liked to have seen Simon and Lynette interact more with each other and "watch" them fall in love. I know it can happen in an instant, but I like to savor the experience.
The heroine's mother. While I didn't quite hate her, I really didn't care for her. She does what she does all for love, and yeah that's great, but then she tries to separate her daughter and Simon. Which just may have been indictative of her being a protective parent, but I wasn't happy with her about that.
Overall though, there's not much to dislike. My issue was that it was a quicker read than I was anticipating, so I feel like I do when I only get one piece of chocolate: that's it??? I definitely wanted more, and felt a bit cheated. So it wasn't a bad book, just not enough of one to satisfy me. I'm wondering if there will be another installment. I couldn't find anything @ Sylvia's site under "coming soon", but I'll keep my fingers crossed...
Rating: **** out of *****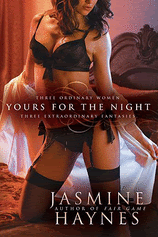 Transformed into mistresses of the night, three women discover that sometimes fulfilling your deepest desire is the most dangerous thing you can do. Meet Marianna Whitney, Dominique Lowe, and Noelle St. James-three ordinary women who discover that becoming modern-day courtesans can help them satisfy their clients' most extraordinary fantasies, as well as their own.
I saw Dear Author's review of this book and pretty much have to agree with the commentary. I was expecting something totally different than what I got out of the first 2 stories. I thought I would find naughty tales of women who enjoy their work and make no apologies for it.
The Girlfriend Experience: Marianne pretty much has to find some way to make money, and one of her friends tells her all about Courtesans, Inc., which sounds like the answer to her prayers. But she has reservations about it. Understandable. But her behavior and actions were more in line with that of 23-year old fresh out of college struggling to make ends meet rather than that of the 35-year old woman she actually is. I couldn't respect her for being such a ninny. Then she goes and finds her knight in shining armor almost right out of the box. And Chase, the knight? Wouldn't he have more of an issue about falling for someone who gets paid to have sex? It just seemed to perfect.
Payback: I wavered on this one because I liked it in a lot of ways, but in others I didn't. Dominique's motivation in becoming a courtesan was revenge. Her husband dumps her for a younger woman, and the only way she can get validation is by having mega rich men pay for her sexual favors. When she ends up sleeping with Gabriel as a one-night stand instead of as a paid escort, it seems pretty evident that Gabriel was attracted to her from the start, but once she tells him what she does for a living, she can't wrap her head around his feelings. So there were moments when she was a strong, empowered woman who enjoyed being a courtesan and the power it granted her, but in others she was still entangled in her feelings of unworthiness due to her painful divorce. Finally she came to her senses.
Triple Play: This story was more what I was expecting, yet it was still remarkably romantic in an unconventional way. Noelle LOVED being a courtesan, and it wasn't needing the money or needing validation that made her do it. She reveled in her sexuality and lived out her fantasies with the men who paid for her. But after a time, the experience has lost its spark, and she needs something new to keep the excitement alive. She finds it in Dax Deacon (yes, that's his name), a man who's greatest pleasure is to watch. He's all about the woman's pleasure, whether it's with him, or other men. He pushes her to the limits, and she loves it all. That is until it appears that Dax might be losing interest. Then Noelle realizes that she might have just found the perfect man only to have him not want her. Of course by the end they realize how wonderful they are together, and we get the impression all will be well with Noelle and Dax. Naughty, exciting and wild as well. I actually liked this story the best, even though once again the heroine is a little too motivated by a man's thoughts and opinions. I'm not big on having the heroine so emotionally dependent on the hero. That sounds like an oxymoron in an athology about courtesans, but each of the women displayed a varying level of subjection to the man in her life, needing his validation to make them feel worthy of him. That always rubs me the wrong way.
Some readers may enjoy these three very different stories, so I won't tell anyone it was a bad book, because it's not. It just didn't have the empowering message that I was rather expecting to find.
Rating: ***1/2 out of *****
Labels: Jasmine Haynes, Sylvia Day