Friday, October 23, 2009: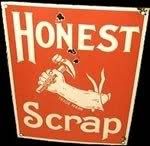 It always amazes me that people take the time to do this, and to include me in the fun. I am horrible when it comes to these things, but I'm trying to mend my ways. No promises, but I'm working on it...
This is the Honest Scrap award, and it was presented to me by my new friend, Heather @
Book Obsessed
. It is for those bloggers who write from the heart. The rules are to pass it along to seven bloggers and then list 10 honest things about myself.

I selected these bloggers as worthy of this award because they always give something back to me. Some of them may not be as well-known, but they are genuine and amazing in their own amazing ways.
In My Own Words: I may not visit everyday, and I don't always comment, but that doesn't mean I don't value your friendship and what you give back, because I do. I keep a lot of things close to my heart, and I don't always share, but I hope this award gives you an idea of how much I treasure you. Online friendships are unique, because you can develop a bond with people you may never meet in person, but I think they are just as important as the friendships in my everyday life. Thank you for all you do.
Now there are many, MANY other blogs just as deserving, and I realize that. It's hard to narrow it down to just 7 blogs. So if you're not mentioned, it's not because you're not worthy. You ARE! *g*
10 Things About Me
1. Currently I am addicted to Baja Fresh's fish tacos. Can't get enough of 'em.
2. I love kids but will be okay if I never have any of my own. I'm way too selfish anyway.
3. The older I get, the more I hate flying.
4. I was very baptized. I don't go to church but I do believe in God, very much so.
5. I hate candycorn. It is the worst part of Halloween, imo.
6. I'm really bad at meeting people. It makes me nervous. Total dork here. Nothing personal.
7. I love the smell of gasoline. And a wood fire. Coffee. Lilacs. Freshly cut grass...
8. I love visiting haunted places. Did the Richard T. Crowe
tour
a few years back. So fun!
9. I love being lazy. I have no problem doing absolutely nothing for long periods of time.
10. I cannot hear Taylor Swift's song "You Belong With Me" enough. I will play it til I hate it.
Okay, that's all I've got. I hope you go forth, and share the love......
Labels: awards