Monday, February 04, 2008:
Hot, hot, hot!
This
is the reason I started watching "
Robin Hood
" - for Richard Armitage, who plays Guy of Gisbourne. Never have I loved a villain so much. Richard plays Guy with a more sensitive nature - he's almost like a spoiled child in some ways, grabbing for whatever he can get, eager to have someone love him but suspicious and petulant when things don't go his way. He doesn't understand he cannot force someone to love him, no matter how much he wants them to. While part of him may want Marian because so does Robin, I think there's also a part of him that cares very deeply for her.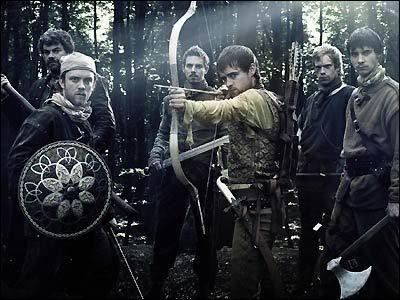 Now, for those of you who haven't seen it, I won't give away any spoilers, but things were a-brewin' at the end of season 2 and we're still not sure what will happen for season 3. So far I'm still working on season 1, and am ignoring any tidbits about future seasons. I'm just getting all dreamy about baddie Sir Guy (yeah, no surprise there) and even admit that the young whippersnapper who plays Robin Hood is a kind of a cutie - reminds me a bit of Brad Pitt with those twinkling eyes and charming smile. I do like him. And Will Scarlett. And Alan A Dale. Heck, even Much is kinda cute in a geeky way. It's not rocket science, and the version with Michael Praed is still my favorite, but it's a fun show to watch.
One thing I've noticed is that instead of the gang winning at every turn, they seem to be going backwards. In the beginning, they won just about every battle, tricked the Sheriff and Guy, and won the day. Now they sure do fall into a lot of traps, people die, and Robin Hood is not always right, or blindly obeyed. Interesting stuff. And who doesn't get a kick out of the flamboyant and evil Sheriff? He cracks me up. I'm enjoying this campy ride.
So, what are you watching?
Labels: BBC, Richard Armitage, Robin Hood