Thursday, January 31, 2008:
Here it is, kids, the moment some of you have been anxiously waiting for: your chance to win a copy of "North and South", a.k.a. "a romantic evening with Richard Armitage".
Despite wracking my brain, I decided to relent and make it easy on those who'd like to enter because, well, deep deep down, I'm kind of a nice person, and not only that, I'm extremely lazy. So instead of having you do crazy stuff to amuse me, I would just like to you answer a simple question, in light of the spirit of the movie:
what do you consider to be the most romantic of gestures?
What is romantic? Maybe to you, romantic is not getting down on bended knee and proposing, but rather starting your car every morning when it's 20 degrees below zero, or making you breakfast in bed, or taking the kids out so you can have some "me" time. Maybe it's him selling his favorite (and valuable) baseball card to buy you a laptop computer so you can follow your dream to write. Something that touches your heart.
~ Margaret finally sees Richard, in more ways than one ~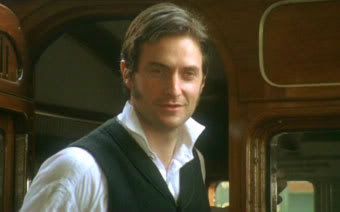 ~ Richard smiles when he sees his lovely Margaret ~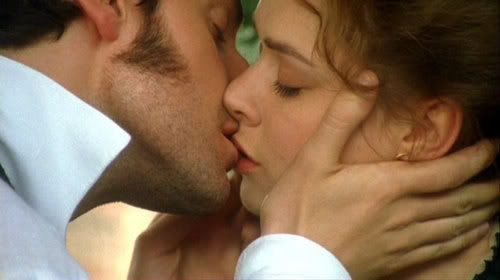 ~ the most romantic of kisses~
You should see the film if for no other reason than this scene at the train station. Definitely swoon-worthy business, and one that you'll watch again and again...
So leave your comment here no later than January 31st, on your idea of a most romantic gesture in general or from your sweetie, and a winner's name will randomly be drawn (from those who follow instructions *g*) on February 1st. The prize will be a DVD version of "North and South", a 4-hour BBC drama based on the novel by Elizabeth Gaskell. Because I love it so much, the contest is open to anyone within and outside the U.S. One entry per person and/or ISP address please.
Disclaimer: the winner will have until midnight, February 7th, to respond with their address information, otherwise another winner's name will randomly be drawn.
In case you didn't know, this movie has gotten rave reviews from the romance bloggers out there. Special thanx to KristieJ and the other wonderful crusaders who have brought this film to my attention, and now I would like to share it with you. Good luck!!!
Labels: contests, North and South