Sunday, October 28, 2007:
Mass Market Paperback
: 402 pages
Publisher: Leisure Books (October 2, 2007)
ISBN-10: 0843959770
ISBN-13: 978-0843959772
ONCE HE HAD SCORCHED THE WORLD.

ONCE HE HAD DRIVEN BACK THE DARKNESS.

ONCE HE HAD LOVED WITH SUCH PASSION,
HIS NAME WAS LEGEND...
~TAIREN SOUL~


Now a thousand years later, a new threat calls him from the Fading Lands back into the world that had cost him so dearly. Now an ancient, familiar evil is regaining its strength, and a new voice beckons him - more compelling, more seductive, more maddening than any before.
As the power of his most bitter enemy grows and ancient alliances crumble, the wildness in his blood will not be denied. The tairen must claim his truemate and embrace the destiny woven for him in the mists of time.
I first heard about C.L. Wilson from my online pal MaryKate (no surprise there) who raved about "Lord of the Fading Lands". Then I saw her on a special Saturday post with the Plotmonkeys where she talked about worldbuilding. After reading "Lord of the Fading Lands", let's just say the woman knows what she's talking about.
Now before I start my review, I'll admit I wasn't too enthusiastic about reading a fantasy romance at this time. The thought really didn't appeal to me because I really have to be in the mood to read a certain romance genre, be it historical, contemporary or paranormal, but then her name kept popping up and I admit, I was feeling left out. So I made a decision and bought "Lord of the Fading Lands", but it still took me awhile to actually read it. Finally one day earlier this week I picked it up and started reading....and was completely absorbed in her story. So much so, in fact, I read it twice, and enjoyed it even more the second time.
The tairen - "those magificent, magical, winged cats of the Fading Lands - were dying. When the tairen died, so would the Fey. Rain Tairen Soul, King of the Fey realizes this and is so desperate to save his people, he does the one thing all Fey are forbidden to do - he touches the Eye of Truth for answers. Amidst an agony beyond any he's ever known, he sees what he is looking for, and though it's not exactly what he wants to hear, he recognizes the wisdom of what the Eye is telling him, and sets forth to seek out the salvation of the Fey.
Ellysetta Baristani is a young Celierian woman who has had nightmares all her life, horrific visions a child should never see. Now, at twenty-four, she is a plain woodcarver's daughter, without the looks and money to attract an ideal suitor. However one man wants to claim her very badly, so much so he orchestrates a plan that has both his parents and Ellie's signing a marriage contract between the two. Her anguish is so great, her soul calls out. And it is answered.
Rain hears the plea, and knows it is the call of his shei'tani. His truemate. Anxious to claim her, he makes plans to go to Celieria, the city to which his Truthspeaker was traveling for her annual visit, a city he despises and hasn't set foot in over 1000 years. But for the survival of his people, and the protection of his truemate, he will find her.
Ellie is among the crowd watching as Rainier vel'En Daris Feyreisen, Rain Tairen Soul, circles high above the people of Celieria. She has imagined him all her life, the hero of her daydreams, and he is an awesome sight to behold. But the tairen's fury over not finding his truemate is strong, and it scares the people. Ellie is seriously hurt as the frightened folk try to flee his flames of wrath. As people are running, a darkness comes over Ellie. She looks up, only to find the man of legends, the Feyreisen, standing before her, proud, magnificent, intense, frightening.

Soon after coming face to face with the hero of her dreams, Ellysetta is shocked to learn that, according to Fey custom, she is his shei'tani - his mate of the soul. Confused, overwhelmed, Ellie doesn't understand the bond between them, or just how important she is to the Fey, the fierce warriors who would proudly lay down their lives for her and consider it a great honor. Engaged to one man while supposedly belonging to another, Ellie is torn between what is right and what is fated. She's drawn to Rain, and begins to care deeply for the Fey who are there to protect her as the truemate of their king, but her own people, including her family, are extremely wary of the Fey, and don't trust the magic they possess. And she's terrified of the darkness inside herself, including those nightmares that continue to plague her almost every night. What if she's not the salvation of the Fey, but rather their destruction?
C.L. Wilson's worldbuilding here is vivid and concise, and the images of magic the Fey create are so clear in her descriptions that I can easily see them in my mind as if I were experiencing it firsthand myself. These moments add to the slow yet tender courtship of Rain and Ellie, who are both lonely yet are cautiously reaching out and seeking the affection of the other. Ellie doesn't understand how the Fey, especially Rain, can know she is their queen, but the Fey see inside her heart, and know the beauty and honesty of her soul and believe her to be their Feyreisa. Rain is hungry, impatient to claim Ellysetta as his truemate, but her happiness and safety comes before all else. It hurts that she's initially afraid of him, and he tries to remember she is a mortal woman from Celieria and is unaccustomed to his people's ways.
One of the things that really touched my heart in this story is that of the Fey warriors, and the burden they live with for the many gifts they've been blessed with by the gods. I found myself fervently wishing that each warrior would find his own truemate, his own hope, though they would proudly give up their life for Ellie, the Feyreisa - their queen. They are truly honorable warriors, worthy of their position as protectors. I think their role made it easier for Ellie to come to accept her future as the future queen of the Fey as they offered their friendship and affection unreservedly to her.
This story has it all: romance, honor, magic, adventure, tragedy, a tortured hero, a heroine the reader can identify with. I loved how Rain cared for his truemate but wasn't so soft-hearted he came across as a weak suitor. While extremely young compared to Rain, Ellie showed a strength and a stubbornness that clearly told Rain and his warriors that she couldn't be pushed around, yet still managed to be a loving, generous woman who thought of others before herself. Neither character is perfect, yet they complement each other, and they feel right together, and ease the pain and loneliness they've each been carrying around for so long.
Their story is just beginning, and I already have book #2, "Lady of Light and Shadows" - woo hoo! Thank you C.L. Wilson for such an engaging and absorbing story. So please, listen to MaryKate, and to me, and "Buy the Book"!
Rating: ***** out of *****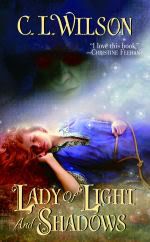 Mass Market Paperback
: 384 pages
Publisher: Leisure Books (October 30, 2007)
ISBN-10: 0843959789
ISBN-13: 978-0843959789
Labels: C. L. Wilson, reviews