Tuesday, October 30, 2007: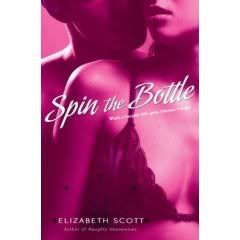 I mentioned a few weeks ago that I had an extra copy of Elizabeth Scott's "Spin the Bottle" and I decided to use it for a contest. But then I had trouble figuring out what kinda contest. I like to ask questions and find out more about the people who blog here, so then it hit me: Spin the Bottle was/is a naughty game you usually play in high school, or college. I thought it would be fun to talk about your favorite games you played as a kid.

I remember "Kiss and Kill" from grade school, where the boys chased the girls and either knocked them down or kissed them. I always wished Jason W. would kiss me, but he never did. Needless to say, I was knocked down a lot LOL.

Then there was Dodge Ball, with two bowling pins for each team - if both pins are knocked down or all the players on one team are eliminated, the other team wins. Now I might not be all that athletic, but I can play a mean game of Dodge Ball. One year, the 5th graders played the 6th graders, and I, on the 5th grade team, caught the ball and won for our team. What a shining moment.
What were your favorite games?
Ever play spin the bottle?
Did you enjoy it?
Contest will run through Friday,

November 2nd,

at 7pm CST.
Labels: contests, Elizabeth Scott