Tuesday, December 12, 2006: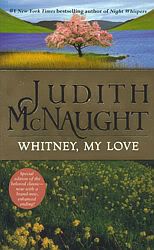 In honor of Michelle's interview (cuz she was just so dang nice to let me interrogate her!) I decided to have another contest, 'tis the season and all that. In deciding which book I should offer up as a prize, I asked Michelle for one of her faves. Several came to mind, but this was the one she decided to go with. "
Whitney, My Love
" is a classic, released more than 20 years ago by an author that has had a huge impact on the romance industry. I don't know about you, but I know I never looked at historicals the same again, and it's still one of those books that I can re-read and be drawn back into the story with very little effort.
So in order to to be entered in the contest, just answer the following questions:
What book had an impact on you & changed the way you looked at romance?

What was it about the book that made you feel this way?
~ Winner will be randomly selected noon CST on Saturday, December 16th ~
Good luck!

Description
One of today's best-loved authors, Judith McNaught launched her stellar career with this dazzling bestseller. Now in a special edition that features a brand-new, enhanced ending and endows familiar characters with new depth, "Whitney, My Love" lives on as "the ultimate love story, one you can dream about forever" (Romantic Times).
Under the dark, languorous eyes of Clayton Westmoreland, the Duke of Claymore, Whitney Stone grew from a saucy hoyden into a ravishingly sensual woman. Fresh from her triumphs in Paris society, she returned to England to win the heart of Paul, her childhood love...only to be bargained away by her bankrupt father to the handsome, arrogant Duke. Outraged, she defies her new lord. But even as his smoldering passion seduces her into a gathering storm of desire, Whitney cannot -- will not -- relinquish her dream of perfect love.
Rich with emotion, brimming with laughter and tears, "Whitney, My Love" confirms once more why "Judith McNaught is truly one of the spellbinding storytellers of our times" (Affaire de Coeur).
Find out more:
Read an excerpt
Product Details Pocket, June 2000 Mass Market Paperback, 736 pagesISBN-10: 0-671-77609-6ISBN-13: 978-0-671-77609-1
Labels: contests, Judith McNaught, My Love, Whitney