Saturday, August 26, 2006:
Kathleen Dante
is another friend I met on-line through Lori Foster's Yahoo group, and September is a big month for her. She has two releases coming out, and I can't wait to get my hands on them!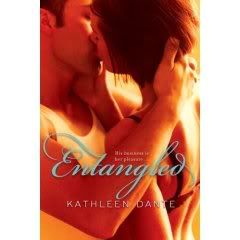 Paperback: 320 pages
Publisher: Berkley Trade (September 5, 2006)
Language: English
ISBN: 0425212750
I'll start with "Entangled" her first published story. Here's the synopsis:
First time in print from a sizzling new star in erotic romance. What's in a woman's heart...Brilliant executive Kiera Stevens finds herself in a vulnerable position when she suspects insider espionage. Someone she trusts is stealing company secrets and threatening her professional future. What she needs is an undercover man... What's on a man's mind...Security expert John Atlantis never expected his client to be such a hot distraction. That's what makes his covert plan to pose as her lover so irresistible. What unfolds between them is no ruse-and what it sparks is beyond their control. Now, while their defenses are down, a devious high-tech spy is moving closer, and watching Kiera's every move. What he sees, he likes. And what he likes, he takes.
Oh this sounds soooo good. Wait til you read the excerpt. Click
here
for the excerpt.
Paperback: 294 pages
Publisher: Kensington Publishing Corporation (September 6, 2006)
Language: English
ISBN: 0758214898
Samhain Night is a time for relaxing society's rules, a night of sexual excesses to propitiate the gods, when amateurs may dance in the strip bars of the Pleasure Quarter without repercussions. It's also the best time for necromancers to conduct illegal magics.
Desperate to protect her great-grandfather's well-earned eternal rest, Alana flees to the Pleasure Quarter seeking safety … and finds more than she expected in the arms of an intriguing neighbor.
Here's an
excerpt
from "Night Pleasures", her story in this hot anthology.
So Kathleen, I want to wish you all the best with your stories, and I cannot wait to read them :) It's been a pleasure getting to know you, and I'm very happy for you and seeing you achieve your dreams. It's also nice to know there's something in
March 2007
to look forward to. Not to mention
April 2007
- you've been busy! And can I just say, you've got some really great covers. Lots of reasons to celebrate. Keep on writin'....