Thursday, October 21, 2010:
Angie is yet another friend I've "met" on Twitter, and she's a fun, crazy person that's fun to tweet with. So of course I had to invite her to be a guest!

Feel free to tell us about yourself: name, background, etc. Are you a reader/blogger/writer?

jaymzangel aka Angie avid reader, lazy blogger =D

Do you have a blog? What is the name/link and how would you describe your blog?

A bitch, a blog & a bookshelf. sadly I'm a lazy blogger, I can't do it religiously so I pretty much do it when I feel like it. which is typical of me =P


What book(s) are you currently reading? Would you recommend it?

I'm currently reading To Taste Temptation by Elizabeth Hoyt, bought her other series because I loved Wicked Intentions so much. Previously, I read
Personal Research by Cari Quinn & rereading Bound to Please, Mark St Crow = YUMMY

What is your most anticipated soon to be released book?
Shadowfever by Karen Marie Moning, hands down. I am both incredibly excited & sadder than hell that the series will be ending. I'm looking forward to the spinoff books though. hoping for Dani/Ryodan. *fingers crossed*
What's playing nonstop on your iPod rotation right now?
Christina Aguilera's Bionic CD, Misery by Maroon 5, Why Wait by Rascal Flatts, Bleed by Hot Chelle Rae & I Love the Way You Lie by Eminem & Rhianna
What are your favorite places to visit online?

I'm a Twitter & tumblr junkie, also Goodreads & Amazon


What are some of your favorite things: beverage? food? t.v. show?

fave beverage ~ Jack & Coke, non-alcoholic beverage ~ milk, fave food ~ Maryland crab cakes, TV show ~ True Blood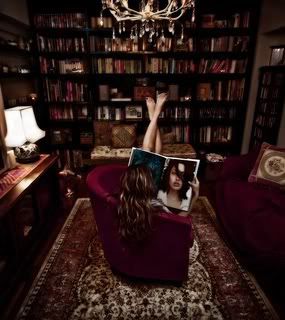 Which hottie out there is to die for?

oh goodness, there are SO many I'd jump on but my #1 is Alexander Skarsgård. I heart him crazy.

Favorite restaurant?

I love Carrabbas, their food is fabulous & their pomegranate martinis are to die for.


What would people be surprised to learn about you?

I never sing where other people can hear me because I sound so bad doing it =P

Thank you Angie, for being my guest today, and sharing a little bit about yourself. I think Shadowfever has to be my most anticipated book as well. And dayum, I want a personal library like this - my idea of heaven :)

Labels: online friends, spotlight